Articolo disponibile anche in: Italian
More than 20 companies (also present in Chianti Classico, in Tavarnelle and in Radda in Chianti), six presidents, hundreds of peoples and families involved in direct and indirect  production, 20 years of history… .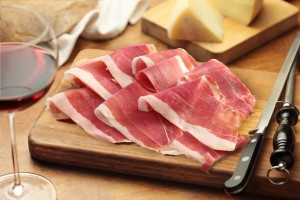 But mostly personal stories of the community and its territory: the consortium of "Prosciutto Toscano" celebrates the anniversary of its "top brand", obtained in 1996, with four days of events at Eataly, including two of the most awaited concerts of the season and a convention to follow the principal stages of the journey and the next 20 years.
From November 28 to December 1, Prosciutto Toscano Dop will be the guest of honor at Eataly in Florence, with the event entitled "Una fetta di Toscana" (A slice of Tuscany).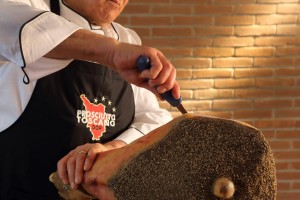 Each day will develop around a theme, from 10:30 AM, with didactic activities and tastings aimed at students of American universities and hospitality schools, and ending with afternoon events and evenings open to the public dedicated to the story of the product and its history.
For example, Monday, November 28, will be dedicated to the tale of the twenty years of Dop, while the meeting of Tuesday, November 29, will be dedicated to the cutting of prosciutto Toscano, in collaboration with Andrea Berti of the historic "Coltellerie (knives) Berti e Consigli", from Scarperia.
On Wednesday, November 30, the chefs of Eataly will present a cooking show entitled "Cucina Creativa con il Prosciutto Toscano".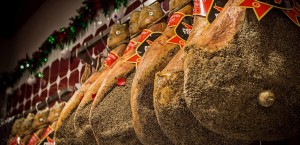 All of the events begin at 5:30 PM and are free of charge, except for the December 1st program, which will host the participation of some sommeliers and tasting of wine paired with various dishes (60 euros. Reservations required at 055 015-3610).
You will be able to taste a sparkling Puro Rose' Movia together with prosciutto Toscano Dop aged 20 months and sliced with a knife, a special Gattinara Sogni d'oro Travaglini, accompanied by a semi seasoned pecorino,  S'indora di Mocine a super Tuscan together with bread produced by the Eataly oven, and a passito from the Cinque Terre, Sciacchetrà, La Torre,  with a whole wheat focaccia with seeds.
Leading the tastings and the meetings of the four days will be Emore Magni, Director of the consortium of prosciutto toscano.
During all four days Eataly will integrate its menu with two dishes dedicated to the event: Pizza Margherita with buffalo mozzarella and prosciutto toscano Dop with cold cuts from Tuscany.
On the first weekend of December, "Prosciutto Toscano Dop: venite a sentire!" will be presented.
On Friday and Saturday, December 2 and 3, fans of the group, Modà, will be able to taste a special sandwich with prosciutto Toscano dop before their concert at the Mandela forum.
On Sunday, December 4, there will be some tables inside the Teatro Verdi with tastings in the orchestra section of the Fiorella Mannoia concert.
The grand finale will be on Wednesday, December 7, at 10 AM and 12:30 PM at the Palazzo Strozzi Sacrati, seat of the Tuscan region in Piazza Duomo 10, for the meeting entitled "Prosciutto Toscano: 20 anni Dop".
The following will participate: Cristiano Ludovici, President of the Consortium of Prosciutto Toscano Dop, Marco Remaschi, regional assessor of Agriculture, Nicola Levoni president of ASSICA, Giuseppe Liberatore president of AICIG, Mauro Rosati, director general of Qualivita.
Previous presidents of the Consortium will also be present, starting with Mario Della Nave first president in 1990, Fabio Viani, Aldo Neri, who followed and who will help us remember historic members of the Consortium, like Alberto Ghelli, Alvaro Viani, Piero Piacenti and Dante Meoni.
People, who, with their personal stories, created history out of a slice of Tuscany.