Articolo disponibile anche in: Italian
In a period where young Italians are leaving the country in search of work abroad, there is a positive sign taking place in the Chianti territory.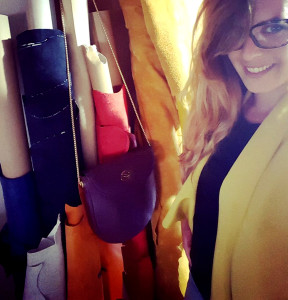 Full of grit, passion and "inspiration", (to name her product brand), Ziv Fetter decided to move from her birth country, Israel, and to live in Castellina in Chianti and begin and develop her business: the online sale of high quality made artisanal leather handbags.
Ziv chose Castellina for the indisputable attraction of the landscape and environment of the town and its territory as well as a sixth sense which, after visiting Italy's main tourist destinations convinced Ziv to begin her new adventure in Castellina.
Ziv has a strong background in marketing and public relations, which increased after her studies in the town of Tel Aviv. Today, she creates designs and develops projects for her handbags, inspired by some of the most influential, iconic women of the 1900s: from Coco Chanel to the Iron Lady, Margaret Thatcher, to Audrey Hepburn, all points of reference in a professional growth who she considers spiritual guidance in our contemporary society.
There are other evocations which inspire her during the creative process. Some recall the values of friendship (Soul Bird in the big City,) of family affection (My little Tinkerbell-the Queen Mother), while others are decidedly more individualistic (Penny for your thoughts) or biting (Rock N Roll collection).
She is sending the message that each woman has her style and that each style requires a certain type of accessory, starting with the handbag, identifying a paradigmatic object of a woman's depths.
The designs and sketches form and materialize thanks to the work of qualify professionals from the Florentine area, some already involved in high fashion designs. Ziv chooses all of the accessories with maximum regard to their quality and detail, understanding that nothing should be undervalued and everything requires thought.
Ziv faced a series of bureaucratic and administrative obstacles, from police headquarters to the Chamber of Commerce and its relative territorial rules. Now, she is finally online with her collection at the site www.zivfetter.com.
Cosimo Ciampoli