Articolo disponibile anche in: Italian
High quality food and wine is highlighted by excellence in Gaiole in Chianti, with the Michelin star awarded, Tuesday, November 15 to the Pievano restaurant of the "Castello di Spaltenna" .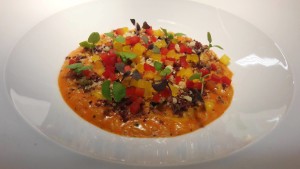 The acknowledgment was received by chef Vincenzo Guarino, on the stage of the Regio Theatre of Parma, where the presentation by the Michelin Guide of 2017 and the assigning of the precious stars were given to 343 italian restaurants.
"Gaiole in Chianti", comments Mayor Michele Pescini, "greets the awarding of the Michelin star to its restaurant with satisfaction. It was among four Tuscan establishments awarded the prize yesterday in Parma. The prestigious acknowledgment represents an added value for all of the territory and consolidates food and wine excellence which, together with landscape, history and culture make our area dynamic and attractive. We are well known for our quality of life, and of good food and drink".
"In the name of all the town administration,", comments Mayor Pescini, "I give compliments to the Director General of the Castello, Alessandro Ercolani, to chef Vincenzo Guarino and to the entire staff of the restaurant who contributed to this important recognition".
Alessandro Ercolani also it expressed great satisfaction: "The Michelin star," he said, "represents a very prestigious results for our establishment. We salute it with joy and renewed effort for the future".