Articolo disponibile anche in: Italian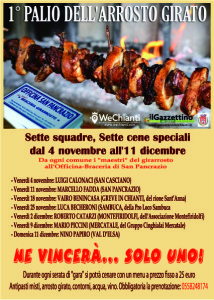 The first "Palio dell'Arrosto Girato" will take place from Friday, November 4 to Sunday, December 11, in San Pancrazio, in the township of San Casciano.
The event is organized by the Officina Restaurant in San Pancrazio "Braceria e Girarrosto", a brasserie born in an old auto repair shop, with the collaboration and media partnership of the online newspapers, the Gazzettino of Chianti and WeChianti.
The event was born of an idea of the restaurant's owner, Yves Ollivier, with the goal to recuperate and promote a tradition still present in our countryside… the "arrosto girato"… meat on a spit.
Chicken, pork, rabbit, pigeon, quail, bread, herbs… everyone can make up his own version of "arrosto girato".
Raw material is bought exclusively from local suppliers. For meat, cheese, and vegetables, shopping is done every day from local farms and shops.
There are seven teams, chosen among the various Chianti towns (with the added town of Val d'Elsa). Representatives of each community will challenge each other to cook the best roast on a wooden spit.
There will be one for every Friday evening for dinner, plus the last on Sunday, December 11. For each evening, a jury selected among restaurateurs,) food/wine journalists, butchers, and experts will judge the cooking, announcing a winner at the end of the event.
During each evening of the "race", you can dine with a price fixed menu of 25 Euros: mixed antipasto,"arrosto girato", sides, wine. Reservations are necessary with a maximum of 50 to 60 people for each evening. You can reserve at 0558248174.
The following "maestri" will take part in the challenge:
– Friday,  November 4: LUIGI CALONACI (SAN CASCIANO)
– Friday, November 11: MARCELLO FADDA (SAN PANCRAZIO)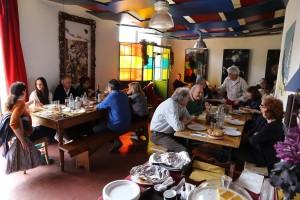 – Friday, November 18: VAIRO BENINCASA (GREVE IN CHIANTI, from the neighborhood of Sant'Anna)
– Friday, November 25: LUCA BECHERONI (SAMBUCA, from Pro Loco Sambuca)
– Friday, December 2: ROBERTO CATARZI (MONTEFIRIDOLFI, from the Association of Montefiridolfi)
– Friday, 9: MARIO PICCINI (MERCATALE, of the "Gruppo Cingialai Mercatale")
– Sunday,11 December: NINO PAPIRO (VAL D'ELSA)