Articolo disponibile anche in: Italian
Working with iron is not easy, but being able to do it with skill and elegance is even harder.
Graziano Lardori, from Castellina in Chianti, belongs to a long line of blacksmiths, who have been mastering the art of iron for centuries.
Some would say he has hands of gold, and admiring his masterpieces we all have to agree that he's a truly talented artist.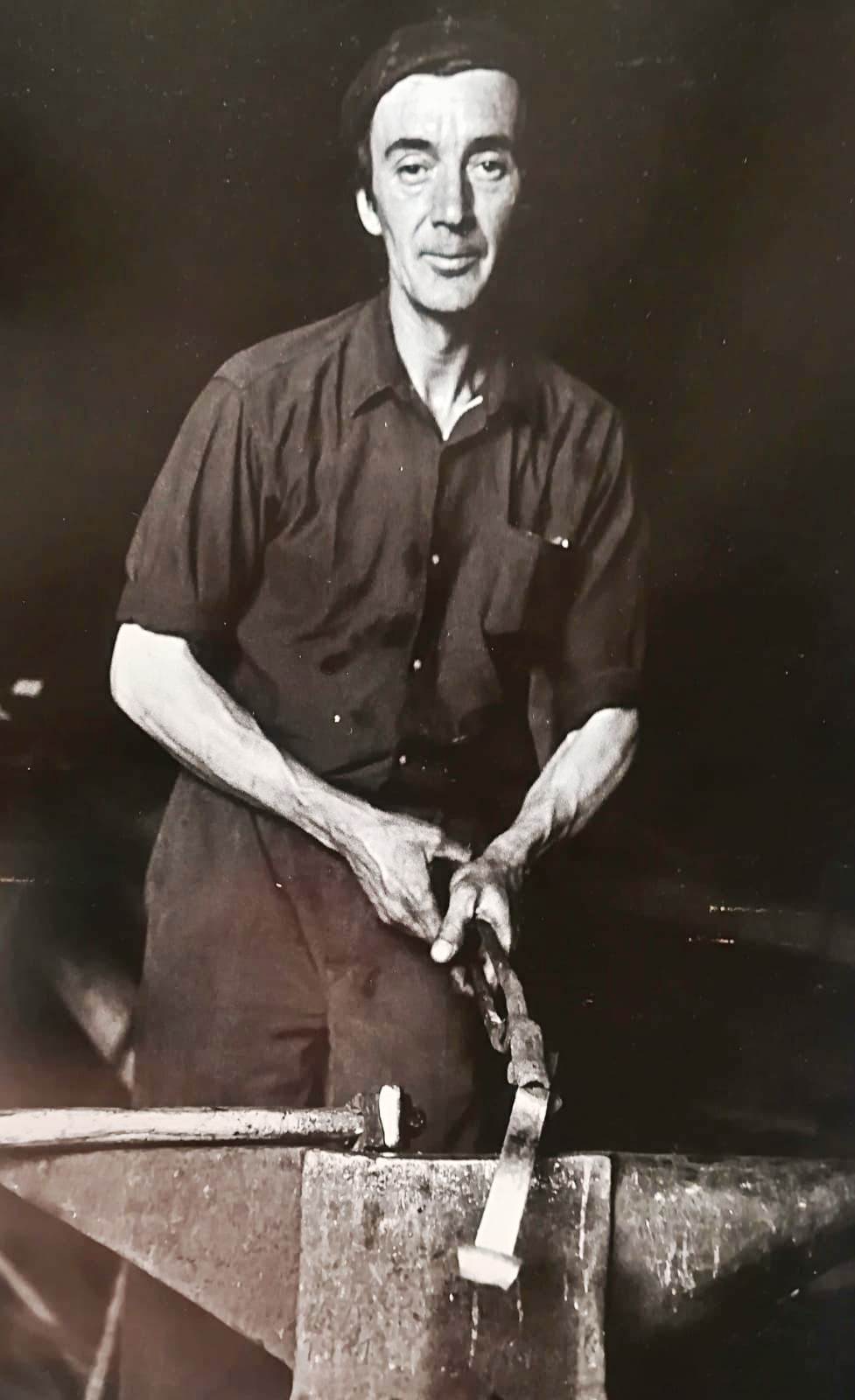 "The Lardori dynasty – Graziano tells us – begins with Pipino Lardori who lived in Barbischio. He had two coats of arms: one noble and the other ecclesiastical. The traces of this family are lost and found again in 1620 in the town of Castellina, where a Lardori was a blacksmith in the Fattoria "La Castellina", which at that time was owned by a Florentine".
"In 1743 there are 5 blacksmith workshops of the Lardori family in Manfrasca. At that time – Graziano tells us – the Leopoldine houses were built by Duke Leopoldo. Those homes had the shop attached underneath".
"When I was a child – Graziano continues – my father, my grandfather, my brother, my uncles Corrado and Lodovico and my cousins ​​all worked in the shop. I started working in 1953, when I was just thirteen. I was a shop boy. My duty was to crush the coal. At that time blacksmiths used to repair agricultural machines, but since 1954 the countryside began to depopulate and the demand decreased considerably. So I went to work at Niccolai; I was a mechanic for a good ten years. There was not much work, and we had to earn our daily bread, Graziano exclaims. My father and my grandfather, instead, carried on working in the shop. They shod oxen. They had two shops: one here in Castellina and one in Lilliano. In fact, at that time there were 42 farms in Lilliano".
"When my father died – he recalls – I went back to my shop with my brother and my uncle Dino. The same year, with the arrival of Signora Scotoni, the countryside started to be populated by foreign tourists who bought country houses to restore them. At that time we had only one shop. We had 3 rooms, two were ours and we were renting the other one. We started making doors, gates and railings. At the age of twenty-seven I completed my first work in wrought iron for an English Lord. I made him seven statuettes that were put outside to decorate his home".
Those were heroic times: "We used to buy the iron in Siena, from the Bazzani hardware store. We used to travel by bus; we used to put the iron on the cart, dragged it and loaded it on the bus. We used to buy the metal sheets and paints from Falassi. Later we bought an Ape, so we could drive to Siena. Or sometimes Mauro Mori, a truck driver, brought the stuff we needed to us".
"My second most important work were some radiators, made with the same technique used in the fourteenth century, all boiled in fire without welding. They were for a gentleman who lived at Molin Nuovo, a famous writer. We used to call him "Sigarone" because he always had a cigar in his mouth. You know, we couldn't pronounce foreign names, so we gave new names to everybody. He even made us sprinkle the radiators with salt and bury them underground for three months, to give them an old look. They came out a true masterpiece".
"You learn the craft by observing – Graziano tells us – we must put in all our effort, but it helps if you have a predisposition. Not everyone is cut out for this job. I'm friends with the iron. I've never said, I cannot do this or that! I've always tried ".
Then he continues his story: "Since many of Castellina's artisans complained that in their shops they did not have enough space to work, the idea of ​​building a craft area was put forward. After 12 years it was finally created, and my shed was the very first one. It is right there where the Tatini is today. But then, with the death of my brother, with two boys, my son Alessio and my nephew Gianni who had just started to dedicate himself to this craft, I decided to sell everything and go back to the shop at home".
"We've worked in Florence, in Genoa, Lake Trasimeno, Livorno, Radda, Poggibonsi, Colle – Graziano explains – We've done many jobs for the municipality of Castellina in Chianti, such as the insignia, the coats of arms, the notice boards. We sent a lot of stuff to Boston, in America. Every year the American family who owns Tramonti used to commission us to make candlesticks, lanterns and other small things. Even a French tourist commissioned some little jobs, like a wind vane with a rooster. Every year he returned with some new requests".
"As a hobby – concludes Graziano – I work with wood, since I was a child I have been passionate about model building. In 1973 I built the Santa Maria, then several sailing ships, the Amerigo Vespucci, the Bismark, Florence's Cathedral and also the historic centre of Castellina, all made of copper".
Jessica Nardi
Read more...