Articolo disponibile anche in: Italian
His Bosco d'Arte, in the large garden of his house, in Greve in Chianti, is the passion of a lifetime.
A life dedicated (also) to contemporary art. That burns inside. Who expresses himself both as a collector and as an artist.
And that Gianni Bandinelli, a former banker, returns to express publicly in Greve in Chianti.
With a personal exhibition, at the Museum of San Francesco (Greve in Chianti), in the Vanna Vanni exhibition room.
Entitled "Meteore", it will be inaugurated on Saturday 11 June at 11.
Gianni Bandinelli's works will be visible until June 26 (Tuesday, Thursday, Friday, Saturday and Sunday, 10-13 and 15.30-19.30).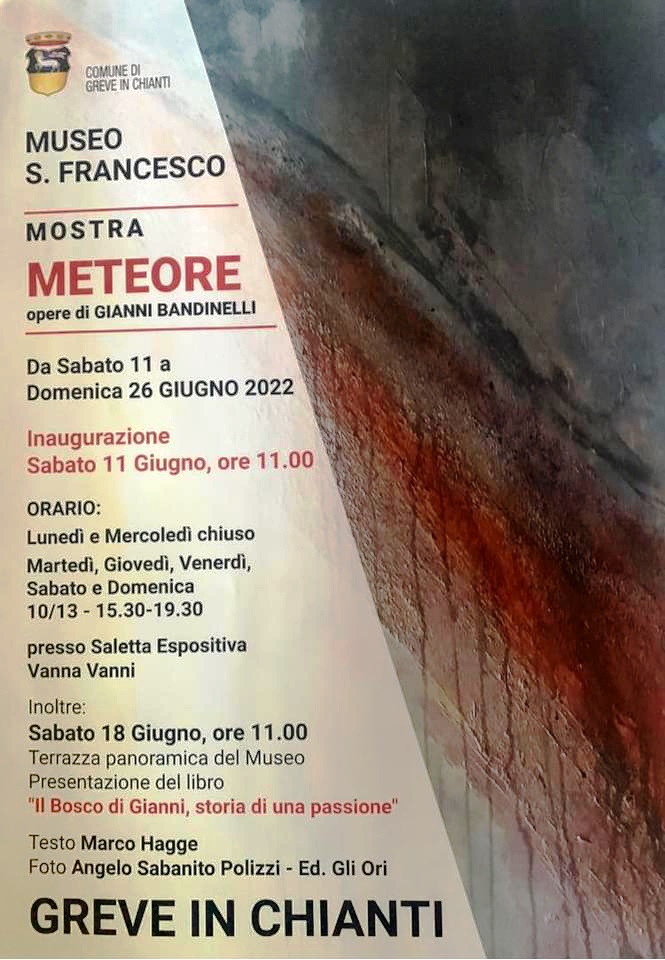 And with the presentation of a book born, raised, edited and now ready to "land" in the world.
Saturday 18 June, halfway through the exhibition, also at the Museum of San Francesco, Bandinelli presents "Gianni's Wood, the story of a passion".
Text by Marco Hagge, photos by Angelo Sabanito Polizzi, Publisher Gli Ori.
Info: https://giannibandinelli.it/
Read more...