Articolo disponibile anche in: Italian
The stage of the Giuseppe Verdi Philharmonic of San Donato in Poggio (Barberino Tavarnelle), known and enjoyed as a cinema, equipped with sophisticated digital technology, reopens its doors as a stable theater space.
The occasion is the first edition of a winter program that, from December 2019 to March 2020, will make you laugh and dream at the same time.
In the Giuseppe Verdi Philharmonic Theater in San Donato, where more than 200 seats are available, six quality titles, united by the ironic and sarcastic figure that is a natural expression of the Tuscan dialectic.
To organize the season in an experimental form is the Giuseppe Verdi Philharmonic of San Donato in Poggio, curated in the activity of artistic direction by the Accademia dei Perseveranti, with the patronage and the contribution of the municipal union of the Florentine Chianti.
Four ladies from the scene will give voice to contemporary themes: Katia Beni and Anna Meacci who will present their "The Best of" on Sunday 29 December at 9 pm; Fiona May and Luisa Cattaneo, performers of the show "New York Marathon" on Sunday 16 February at 6 pm.
The season kicks off with a "Tombola Show" on Friday 20 December at 9 pm in which Sergio Forconi and Andrea Bruno Savelli will duet in a fun swing of gags and shrewd jokes.
On January 26th at 6 pm Sergio Forconi will return to the scene with "Closed smell" and, speaking of artists playing at home, the well-known Massimo Salvianti, actor of the historic Compagnia Arca Azzurra Teatro, will demonstrate his ability with the beautiful "Bottegai", Scheduled for Sunday 2 February at 6 pm.
The programming closes with a staging for all ages, "Fables on the phone" by Gianni Rodari, of which two performances are scheduled for Sunday 1 March: the first at 4 pm, the second at 5.30 pm.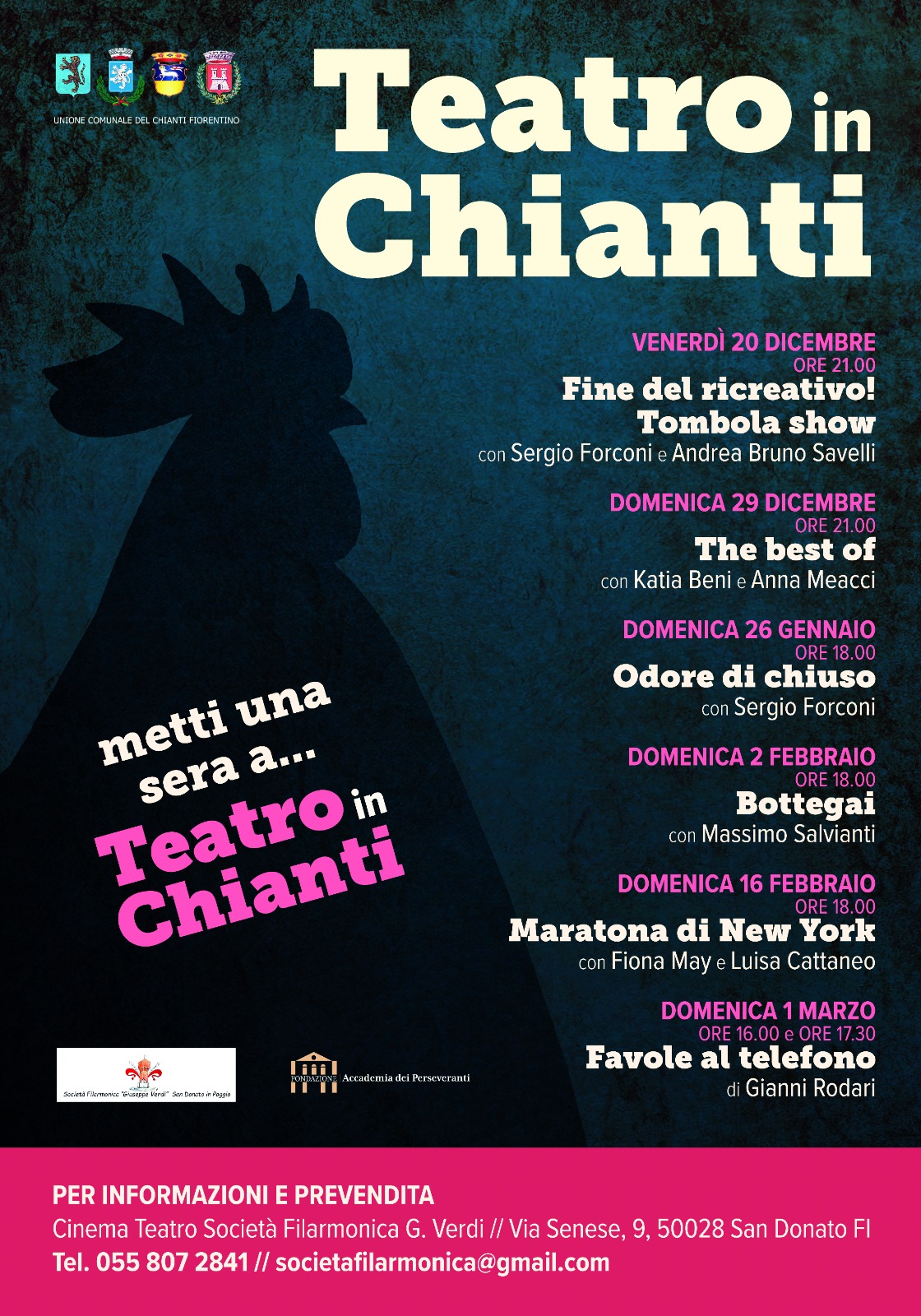 Read more...