Articolo disponibile anche in: Italian
This Summer the musical-gastronomic event organized by the Corpo Musicale Oreste Carlini is back at the Parco del Poggione, in San Casciano.
The 18th edition of this music festival will take place from 18th to 28th July with a rich and engaging program.
For the duration of the festival you'll find various food stalls, a pizzeria (also offering takeaway), and bar service. Shows and music every night, all strictly for free.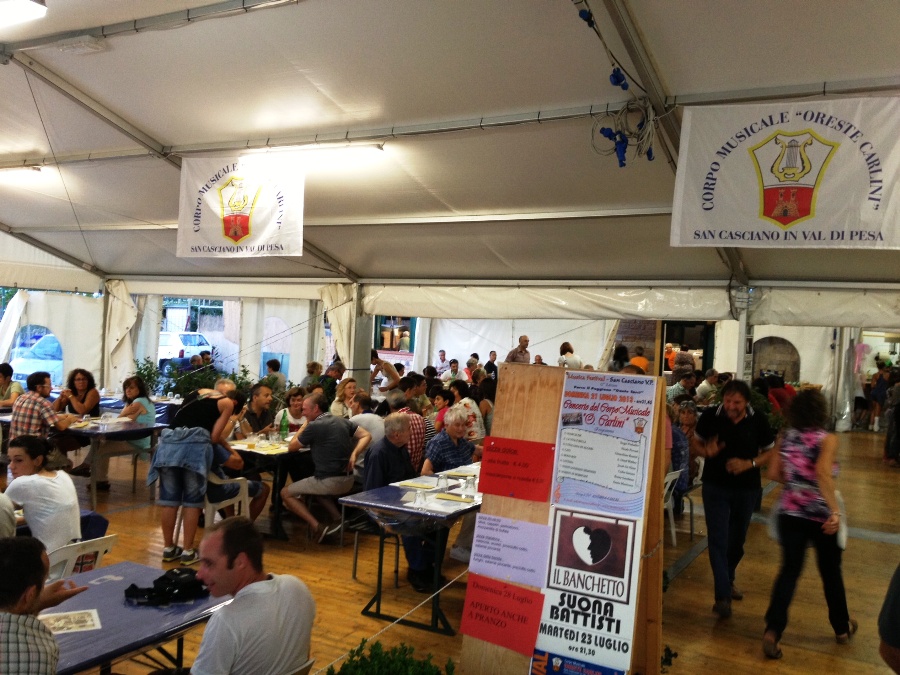 PROGRAM
Thursday 18 July: 9.30 pm "ALEANDRO BALDI" in Concerto
Friday 19 July: 9.30 pm Exhibition and music of the Dance Dance Group "HAPPY DANCE '99"
Saturday 20th July: 9.30 pm "VALENTINA LADY J" Orchestra
Sunday 21st July: 6 pm "FANFARA DEI BERSAGLIERI" Parade for the historic center of the town; 9.30 pm Concert by the "FANFARA DEI BERSAGLIERI" – Conductor of the Fanfara Chief Giuseppe Caselle
Monday, July 22nd: 9.30 pm "IL BANCHETTO" plays De Andrè
Tuesday 23 July: 9.30 pm "QUEI BRAVI RAGAZZI" Rock 'n Roll Band with the participation of Hopp School Florence
Wednesday 24th July: 9.30 pm "OSMAN GOLD" the great classics of the Black & White swing
Thursday 25 July: 9.30 pm The Company "IL GRILLO" in Florence presents "OSSIBUCHI e PALLE D'ORO" – Directed by Raul Bulgherini
Friday 26 July: 9.30pm "CHIANTI MOOD Big Band" on "On the Chianti side of the street"
Saturday 27th July: 9.30 pm "SCACCO" – Singer-songwriter of the Indie-Pop scene presents "THE BEGINNING OF THE JOURNEY" – Opening GIACOMO TOPPI – unplugged
Sunday 28th July: 9.30 pm Concert by the Musical Body "ORESTE CARLINI" of San Casciano – Conducts Maestro Andrea Gheri
Read more...