Articolo disponibile anche in: Italian
Maestro Antonio Manzi has been living in the Chianti (in Mercatale), for a long time, but up until now he had never exhibited any of his works in this area.
Finally a spectacular exhibition will be put up at Palazzo Malaspina, in the heart of San Donato in Poggio with the title "Manzi: vedutista dell'anima", by Angela Pierozzi (main sponsor AB Florence, patronage of the Unione Comunale del Chianti Fiorentino).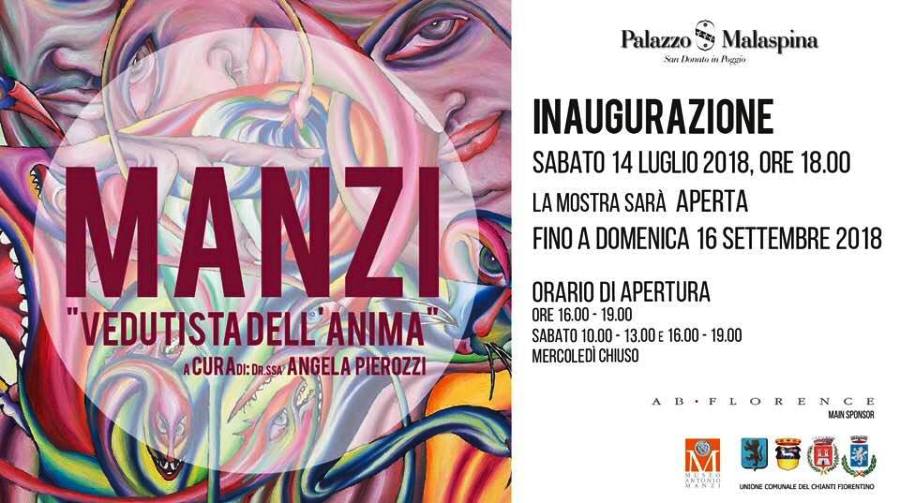 The exhibit will be inaugurated on Saturday, July 14th at 6pm, and will stay open until Sunday 18th September (opening hours: 4pm-7pm, Saturday 10am-1pm and 4pm-7pm, closed on Wednesday).
After the recent donation of his self-portrait to the Uffizi Galleries in Florence, Maestro Manzi will show 50 of his works (twenty of which have never been seen before) in the beautiful setting of Palazzo Malaspina.
Works realized with different twelve techniques skilfully used by Manzi. Oil paintings, drawings, drypoint etchings, ceramics, marble, bronze, collage, terracotta, graffiti, frescoes, pencil on chalk. 20 thousand works for a 50 year long career.
AT THE UFFIZI GALLERIES IN FLORENCE
His artistic journey started explosively after his dramatic experience in a boarding school for children and adolescents with mental health problems.
His internment happened by mistake, but laid the foundations for an artist who has lived his life to the fullest.
He created over 20 thousand works during his career. Of all kinds, and in all places. From wooden doors and the Christ created for the church of "his" Lastra a Signa, to the Museum named after him in Campi Bisenzio, which he himself donated to the community.
He has recently had the honour of being asked by the director of the Uffizi Galleries, Eike D. Schmidt, for his self-portrait to be inserted in the Vasari corridor.
Everyone who knows Manzi's work will certainly want to see it displayed in the wonderful setting of Palazzo Malaspina. The ones who have never seen his creations … what are you waiting for?!

Read more...