Articolo disponibile anche in: Italian
In the town of Castelnuovo Berargenda everybody is ready to celebrate Christmas. The Assinfesta town's associations, in collaboration with the Municipality of Castelnuovo, are organising the upcoming Christmas Market.
On 9th and 10th December more than 60 stalls will liven up the streets of this small town in the Chianti region. Artisans, artists and local wine and food producers will offer up their products and give people the chance to have fabulous Christmas baskets prepared for them.
The opening will be on Saturday 9th December at 3:30pm, with the students of the Associazione Pietro Guideri's music school, and the inauguration of Via Fiorita, a street in the historic centre that has been recently reopened after extensive restoration work.
At 6pm Father Christmas himself will make an appearance to collect all the children's letters.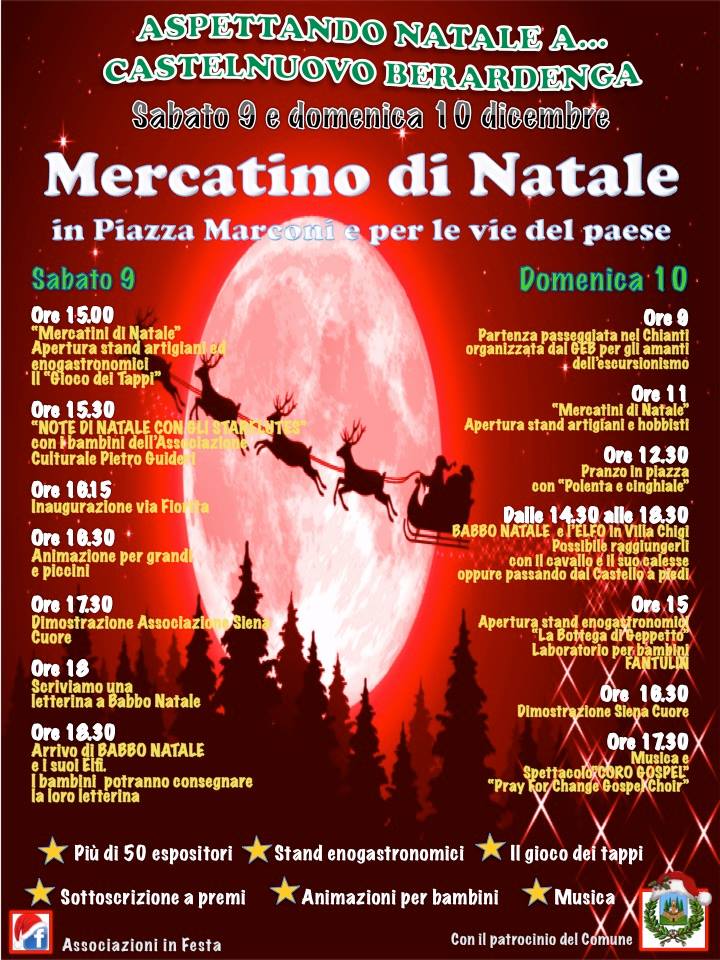 It will be an early start on Sunday 10th December, with a country walk organised by the Gruppo Escursionisti della Berardenga scheduled for 8am, to discover the Berardenga territory.
Father Christmas will be back on his sleigh in the afternoon, ready to show the delights of Villa Chigi Park to all the children and parents.
The "Pray for Change Gospel Choir" concert will round off the event.
On Sunday all food lovers will have the chance to take part in the traditional lunch, during which the 'polenta con cinghiale' (polenta with wild boar sauce) will be served, or to taste treats from local restaurants in the stalls in Piazza Marconi.

Read more...