Articolo disponibile anche in: Italian
From Bangladesh to Montefioralle, from Wall Street to "risotto". The life of the young Patrick Risotto Botlero is like a film.
Patrick moved from Bangladesh to the USA with his parents when he was 8 years old and lived in New York City, where he worked for the Credit Suisse on Wall Street starting in 2007.
Love brought him to Sweden and Stockholm, where he appreciated the mentality, the cuisine, nature and lifestyle. Here he found a new job in a different bank, but it didn't last long.
He felt like a bird without a cage and decided to follow his passion and dedicate himself to his great love, the "risotto", which he chose as his middle name.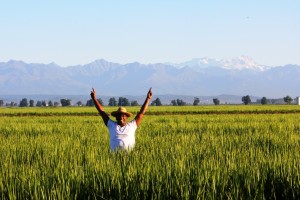 The story of your name is very unusual. Can you tell us about it?
"From 2011 on I traveled often in Italy, to Treviso and Venice and even Torino to learn everything about different dishes with a rice base, and I cooked with grand risotto chefs like Gabriele Ferron and Luciano Parolani, my friend and teacher. When I returned to Stockholm  I cooked risotti for my friends during many 'risotto' parties. They began to call me "Risotto Man". I liked the name so I contacted the records office and asked if I could make Risotto my middle name. I am also producer of a band which creates risotto music: "Risotto Nova" and "I want Some Risotto"are two of their songs".
How did you arrive in Chianti and Montefioralle?
"After I learned everything about the risotto, I began to study Piedmont cuisine. Then I concentrated on the grand tradition of meat in Florence. I discovered Montefioralle when I went to meet Dario Cecchini last April in Panzano. I felt right at home".
And you decided to move…
"I love to cook, to learn and write stories about my experiences with different regional Italian cuisine. So I decided to return to Montefioralle last summer and tell the story about a chef traveling in search of recipes, people, languages, traditions and the territory. I learned to make cheese at the Podere Le Fornaci, cold cuts with Stefano Falorni. Laura, the chef from the Taverna del Guerrino taught me how to make cacciucco and from the chef of La Castellana I learned how to make stewed wild boar. I took cooking lessons with Stefania Balducci of Pasta al Pesto. From Giovanni Fabbri of the Pastificio of Strada in Chianti I learned how to make fresh pasta and I made pici with Domenico from Greve. I returned during this period for fried rice balls".
You talk to us about your experience in Chianti with great enthusiasm. What was most fascinating for you about life in the castle?
"I love everything about Montefioralle: the cuisine, the landscape and, most of all, the people. They give me hope. I had a terrible childhood and for most of my life I have felt like an orphan, an undesired child, a problem. In Montefioralle I felt loved. People opened their hearts and here my "vita bella" began and I became Italian".
Luisa Carretti
Read more...