Articolo disponibile anche in: Italian
Medieval walls and the town library; a monument and a space symbolic of the culture of San Casciano, a cultural heritage to valorize and protect with sensibility and the contributions of citizen–patrons.
Everyone can support the restoration of the antique fortification of the town and the enlarging of the reading rooms of the library in via Roma by donating to the ministerial project, Art Bonus.
The town is asking citizens, businessmen, banks, and public entities to put their signature on the recuperation of two symbols of great historic, architectural, and sociocultural value for the Chianti town.
"Become patrons and contribute to make San Casciano more beautiful".
These are the words of mayor Massimiliano Pescini, who invites the community to step up and promote culture throughout contributions to Art Bonus.
Donators will get a tax credit in the amount of 65% of the donation which single citizens or companies can make in favor of culture, supporting public cultural heritage.
With Art Bonus you will have particular tax benefits The town has adhered to the state initiative with two projects.
The first is the restoration of the medieval walls. The junta has elaborated a restoration project for one of the original sections of the wall, along via dei Fossi, in front of the Piazza Arti e Mestieri. The complex intervention will cost approximately €300,000.
"Everyone can support and participate economically," adds the Mayor, "even with a small amount. Art Bonus is an easy instrument, concrete and operative for all of us together to support our territory's heritage".
The walls of San Casciano wrap the heart of the ancient medieval Village. The origins go back to the mid 1300s. Presently, only part of the original walls, an extraordinary document for reading construction techniques of the Florentines of the 1300s, is visible.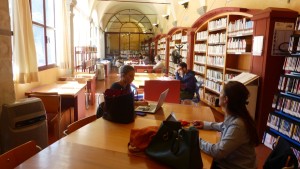 The second project is the extension of the town library. The work will allow the reorganization of internal space, almost doubling it, for a total of circa 80 spaces intended for reading.
It will also create specific areas for smaller children. The library presently contains over 32,000 documents. To achieve the investment, the town has allocated a sum equivalent to €780,000 with financial coverage through the "Bando Periferie del Governo nazionale."
For information on the project and modes of payment: 0558256260 – e-mail: l.baldini@comune.san-casciano-val-di-pesa.fi.it – http://artbonus.gov.it/recupero-delle-antiche-mura.html.

Read more...