Articolo disponibile anche in: Italian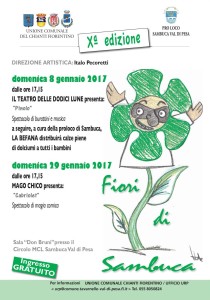 The Town Union of Chianti Fiorentino and the Pro Loco of Sambuca present "Fiori di Sambuca", a series of shows of puppets and animation for children, in its 10th edition.
There are 2 appointments on the calendar which will take place at the Sala Don Bruni in the Mcl Club of Sambuca.
On Sunday, January 8, at 5:15 PM, the "Teatro delle Docici Lune" presents "Pinolo", a musical puppet show. It will be followed by (thanks to the Pro Loco of Sambuca) the Befana who will distribute stockings full of sweets to all of the children.
On Sunday, January 29, at 5:15 PM, Mago Chico presents "Cabriolet", a comedy magic show with artistic direction by Italo Pecoretti. The shows are free entrance.
Read more...