Articolo disponibile anche in: Italian
In the heart of Chianti, along the road for Marcialla, is a pearl of our territory: a concentration of beauty, potential, and food and wine riches.
 Immersed in the sweet hills covered with vines and olive groves, is a centuries old farm belonging to a family originally from Certaldo.
In addition to being historic, It has a primary position for the excellence of its fruits. With passion, confidence and love for the territory, the Giannozzi Family has combined a unique greetings service with the traditional cultivation of its products. The charming atmosphere permeates the entire place.
"Our family business has been around for more than 300 years," says Simone Giannozzi. "Production began in 1707 in the Giannozzi Palace in Certaldo. It was expanded in 1918 with the purchase of the actual farm in Marcialla".
My brother Luca and my nephew Bernardo follow the wine portion of the business", he says. "In addition to the forest and nut trees, we have 40 hectares of vines. Almost half are new. We also have around 9000 olive trees which produce excellent olive oil".
"We produce a white, a rose', and 4 reds," he explains. "The Riserva is traditional, the Chianti is fruitier. We have a pure Merlot, 'Incompreso' (taken from the name of a film in which I acted in 1966), and a 100% Cabernet Sauvignon. We try to diversify. We also make grappa and holy wine".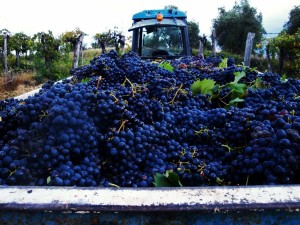 "We are unusual because we are technicians", he underlines. "Starting with my grandfather and continuing with my father, Luca, and I, we all have degrees in agriculture. Thanks to his numerous experiences abroad, Bernardo helped improve the wine".
"We use direct sales," he continues, "and we export and sell to restaurants in the area and in Florence. In the winter, we participate in many fairs to promote our products; in Vinitaly and in organized tours outside of Europe".
"I am in charge of the tourist aspect,"  he continues. "our farm stay, the first to open in Barberino, is made up of apartments with a swimming pool facing the establishment. Consisting of six bedrooms, the B&B is a 1400s Villa with swimming pool. It is in the Piazza of Marcialla."
"Both visitors and sojourners can visit the winery and cellars (the oldest one has 2000 bottles), and taste wine and Tuscan delicacies. During wine harvest we show how the grapes are collected. We like to have an interpersonal relationship with the customer".
Noemi Bartalesi