Articolo disponibile anche in: Italian
A great artist in Italy: Galerie de l'UQAM presents "Françoise Sullivan. Opere dall'Italia", a travelling exhibition (curated by Louise Déry) that will be at La Macina di San Cresci, in Greve in Chianti, from 22nd to 30th September.
This exhibition brings together works by the brilliant artist from Montreal, which were inspired by her numerous trips to Italy where she met several important figures from the art world.
Since the 1940's, Françoise Sullivan has created numerous vibrant artworks of remarkable versatility and inventiveness.
Inspired by the great European and Native American mythological traditions, she has always been passionate about art and poetry, and her work was influenced by the time she spent in New York, Italy, Ireland and Greece.
Sullivan has never ceased, in her boundless curiosity, to experiment with form and colour, gesture and movement, figuration and abstraction, not only in sculpture, performance, dance and photography, but above all in painting.
During the 1970's, Françoise Sullivan visited Italy on several occasions to immerse herself in the artistic movements that were developing around the Arte Povera movement. In Rome, she met several leading figures in the art world such as Jannis Kounellis, Mario Diacono, Emilio Prini, Germano Celant and Graziella Lonardi.
During the summer of 1972, she stayed in Tuscany with his sons, and here she regularly met with Gianfranco Sanguinetti, a revolutionary theorist and a member of the Italian section of the Situationist International.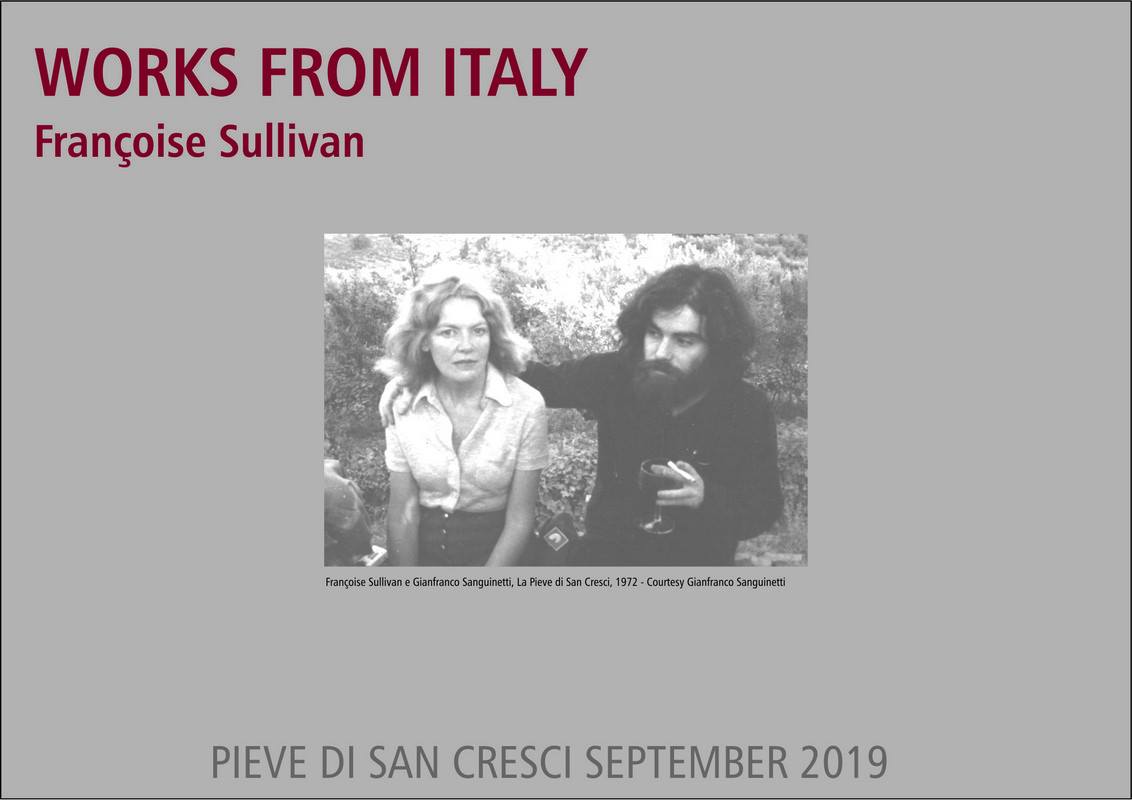 In "Françoise Sullivan. Opere dall'Italia" Sullivan revisits the sites where these meetings took place, testimonies to a lesser-known period of her long career. Here she exhibits works created in Tuscany and Rome, or inspired by these circumstances that embodied a true turning point and gave impetus to her artistic vision.
Her copious production of shows, choreographies, writings, photographs and paintings earned Françoise Sullivan a place in the pantheon of the greatest Canadian artists.
Sullivan's radiant creations illuminate both our recent history and the present.
She continues to work in her studio every day, reflecting on reality and herself creatively through art, inviting us to engage in the vital relationship between art, memory and our world.
The 22nd and 23rd of September will also mark her public re-encounter between Sullivan and the famous author Gianfranco Sanguinetti.
Read more...