Articolo disponibile anche in: Italian
The starred dinners where different chefs participate – at La Torre restaurant, Castello Del Nero, in Tavarnelle – continue with great success.
On Tuesday, December 11th at 8pm it's time for a special evening of great cuisine: the guest chef Ardit Curri, from Ristorante San Martino 26 (San Gimignano) will cook side by side with the executive chef of Castello Del Nero, Giovanni Luca Di Pirro.
All dishes are paired with the wines from the Tenuta Sette Ponti.
The dinner starts with the "Welcome of the chefs" in the Sala Gran Camino, with finger food and Ferrari Perlé 2012.
Here's the menu, with the pairings.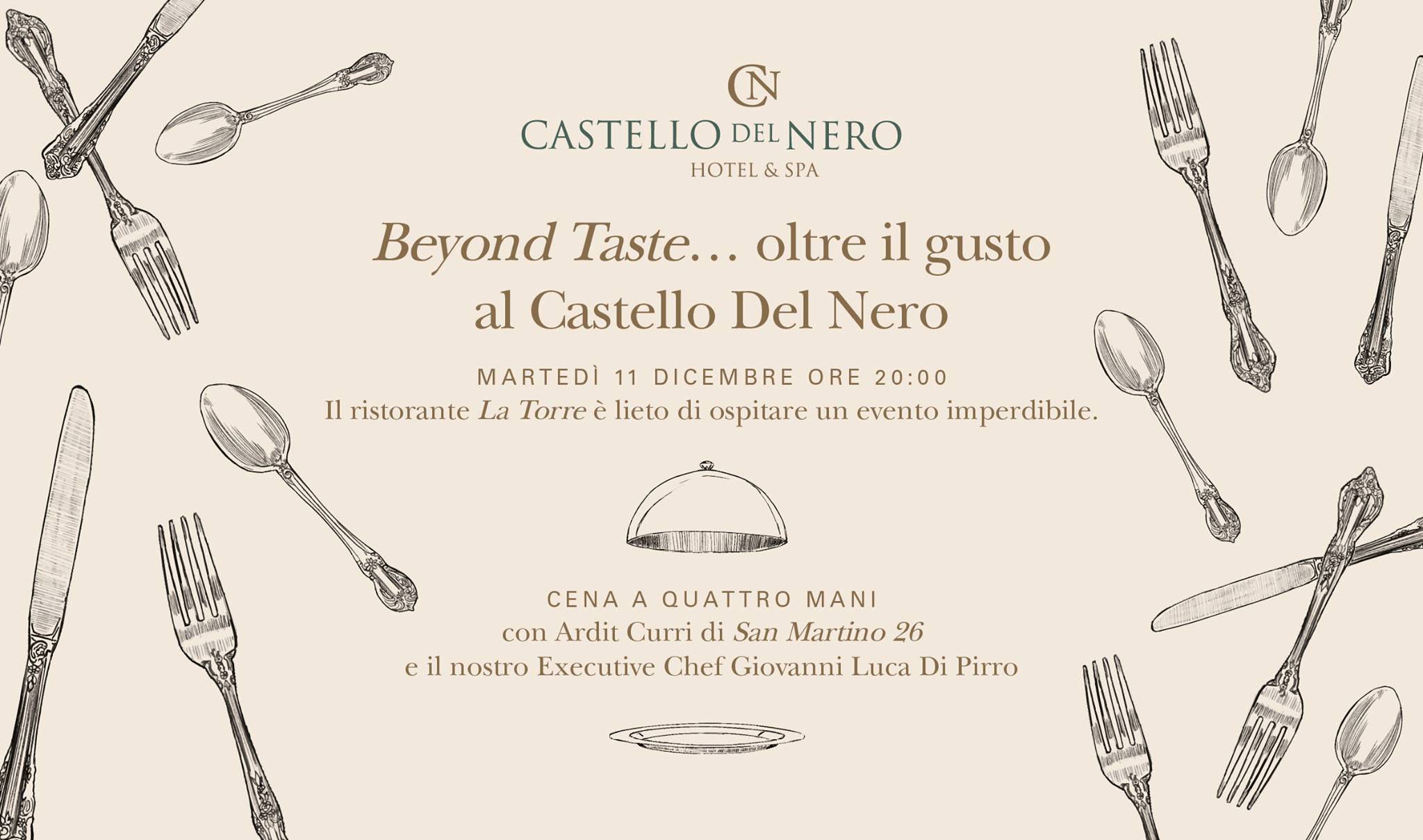 Chicken liver, green apple, Vin Santo, hibiscus sour sauce, cocoa grué in brik pastry cannoli (chef Ardit Curri), Champagne Grand Tour (85% chardonnay, 15% pinot noir).
Guinea fowl, rhubarb and parsnip (chef Di Pirro), Rosé di Neré I.G.P. 2017 Terre Siciliane (100% Nero d'Avola) Feudo Maccari.
Duck cappelletti "alla cacciatora", broth and blueberries (chef Di Pirro), Oreno I.G.T. 2016 (50% Merlot, 40% Cabernet Sauvignon, 10% Petit Verdot), Tenuta Sette Ponti.
Tender and crispy suckling pig with red cabbage, mustard and onion jam (chef Di Pirro), Orma I.G.T. 2016 (50% Merlot, 30% Cabernet Sauvignon, 20% Cabernet Franc), Orma, Bolgheri.
Deer fillet, fermented Sangiovese wine and potatoes (chef Ardit Curri), Vigna dell'Impero D.O.C. 2013, Valdarno di Sopra Sangiovese (100% Sangiovese), Tenuta Sette Ponti.
And for dessert, Light chocolate mousse, coconut and hazelnut cake, exotic sauce (chef Di Pirro), Sultana D.O.C. 2014 Moscato di Noto (100% Moscato) Feudo Maccari.
Small pastry, trolley with pralines and macarons, mineral water and coffee.
Price per person 120 euros. Communal tables. Reservation required: 055806470 -info@castellodelnero.com.
ADVERTISEMENT
Read more...