Articolo disponibile anche in: Italian
In just over four weeks in Gaiole in Chianti, L'Eroica, the most popular vintage leisure event in the world will play out again, in a ritual that is now in its twenty-second year.
At that first edition in 92, cyclists set out, partly for fun, partly as a gamble, to see who would manage to pedal 200 km on 20-year old bikes, on century-old roads and wearing heavy wool jerseys that were decisively old-fashioned.
At the time, not many believed that Giancarlo Brocci and his seven founding partners, were on the brink of inventing something that would take over not just the province of Siena, but the whole of Tuscany, then Italy and the entire world, with editions in California, South Africa, Great Britain, Japan, Spain, Holland and the springtime events in Buonconvento and Montalcino.
And finally, with the Ciclo Club events in Germany and in the Dolomites. Who knows where next!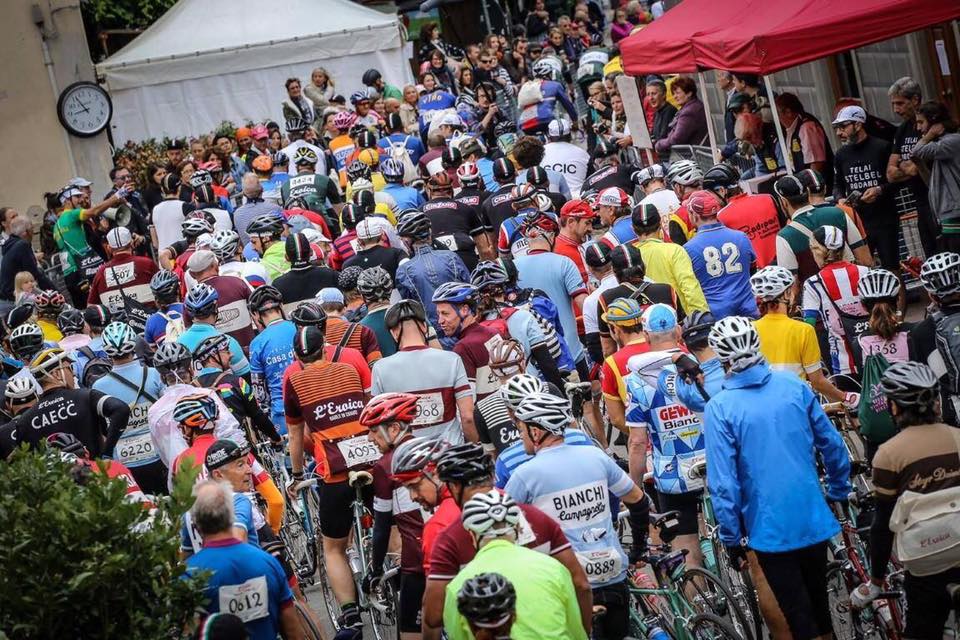 "The L'Eroica on 7 October is the one with the capital L apostrophe" – Giancarlo Brocci always says – because from L'Eroica a passion was born that knows no limits; it wins over young and old, men and women at every latitude".
That's the way it is, no kind of exhibitionism or show. At L'Eroica, cycling seeks out its origins to recover that "beauty of fatigue and thrill of conquest" that modern society tends to eliminate and easily forget.
This is L'Eroica: the recovery of the roots of a tough sport that finds inspiration for the future in the very fatigue that makes it unique.
On Sunday, 7 October, in Gaiole in Chianti, everyone will find the white road to suit them, from the 32 km leisure ride, to the 46 km slightly more challenging route, to the 75 km that requires a certain amount of preparation, to the 135 km that demands respect and determination.
To the truly heroic route, the 209 km from Gaiole in Chianti to Montalcino and back; a series of unforgettable images that stay in your heart and make you wish, probably just for L'Eroica, that the year will pass quickly so that you can come back to Gaiole to cycle in the splendour of the Chianti region again.
As usual, there will be over 7,000 cyclists at the starting line; estimates calculate that many more will animate the village and take part in the other scheduled events.
The most anticipated events are those dedicated to Luciano Berruti, whose memory will never cease to take first place in the hearts of those who appreciate the values on which L'Eroica is founded.
In anticipation of the pilgrimage to Gaiole, on Saturday 8 September in San Candido (Bolzano), Ciclo Club Eroica members will meet to cycle the magnificent roads of the Eroica Dolomiti.
Through mountains, forests and panoramas that UNESCO safeguards as one of its most precious treasures.

Read more...