Articolo disponibile anche in: Italian
The 20th edition of the Bruscello di San Gusmè (Castelnuovo Berardenga), from 23 to 25 June, has an unusual protagonist this year.
If nicknames mean something and better identify a person, we can say that the author Giannino Stoppani, (oldest child of a well-to-do Florentine family), hit the nail on the head with "Gian Burrasca".
Gian Burrasca: a child with whom you could never be relaxed, even if you tried to punish him by closing hime in his room or making him skip his dinner.
Gian Burrasca always found a way: escaping from his window, secretly eating sweets, making up the most diabolic tricks. Gian Burrasca tells his own story in his journal (Giornalino), a secret diary.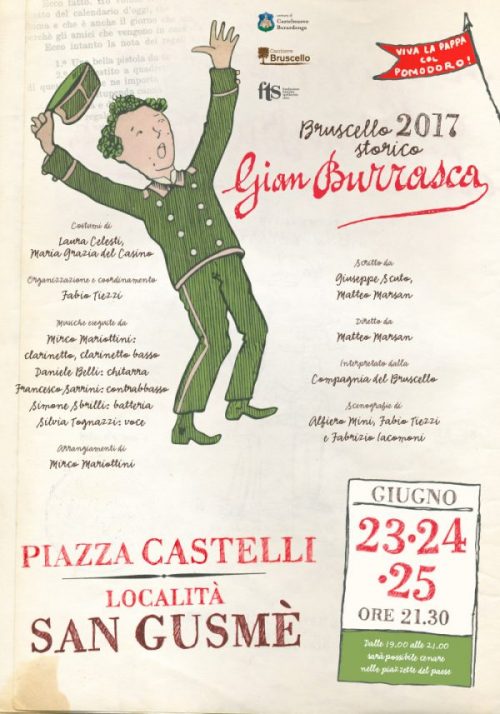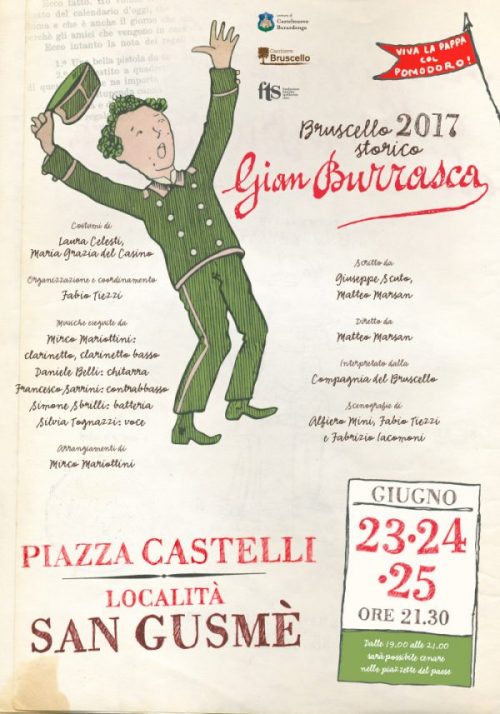 The show was written by Giuseppe Scuto and Matteo Marsan, and directed by Matteo Marsan.
It is interpreted by the Compagnia del Bruscello di Castelnuovo Berardenga.
Musical arrangements are by Mirco Mariottini, costumes by Laura Celesti and scenography by Alfiero Mini, Fabio Tiezzi and Fabrizio Iacomoni.
"Il Bruscello" is a form of popular or comunity theatre. Its characteristics are telling stories of epic characters (Nerone, Pia de' Tolomei, Orlando) using the poetic meter of the "ottava rima incatenata".
Il Bruscello di Castelnuovo Berardenga disappeared with the end of sharecropping, and was reborn at the end of the 1990's and has been attracting 1000's of spectators each year.
On the evenings of the shows, from 7PM to 21 PM, you can dine in the town piazzas with typical dishes prepared by San Gusmè residents.
"Il Bruscello" was created in collaboration with the Township of Castelnuovo Berardenga, the Chianti Festival and the Fondazione Toscana Spettacolo.
Tickets: 12 euros – 10 euros/reduced. For info and reservations: 0577351345 – 3356188690.
Read more...