Articolo disponibile anche in: Italian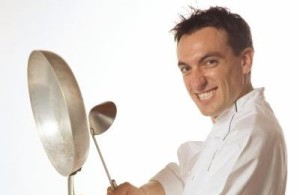 I have been thinking about gold speculation. It seems that our own "gold" can fluctuate as well.
I am talking about saffron. I don't know if you have ever realized that many "crocus sativus" (the Latin name for the saffton flower), grows around us. Let's take a better look. We use the pistils, of an intense red color.
Each flower produces three of them and can only be collected by hand. The bulbs are removed from the earth and moved in July in order to avoid illness or waste. In October, a spectacular flowering, of an intense violet color, begins.
Saffron came to us from the East and was commercialized since 1400 when we began to produce it by ourselves. The crops of Montespertoli, Barberino and Certaldo are famous.
Then this flower disappeared for years, and twenty years ago some hard workers re-started the crop. Today there are 25 businesses which produce between eight and ten kilograms of this "cooking gold" a year.
Many of us confuse the product with the powder sold in small envelopes. Often that is only curcuma, which doesn't contain "Amaricante", that which gives saffron its real flavor. Why doesn't it color the food" Because, in order to use a precious good, we must follow a rite.
Saffron is dissolvable in water. If we want to obtain its aroma and color, we have to let it steep in warm water for at least a night. Afterwards the pistil will dissolve, and we can conserve what remains in the fridge. As always I suggest you take a leap into flavor. But careful… there is no turning back.
Look for sales of saffron in Florence and tell me about it. I eat it in this way
Take 400 grams of good ricotta, possibly sheep ricotta, and add a drop of well dissolved saffron, a whole egg and a drop of salt. Then line an aluminium mold with oven paper and fill it with the ricotta.
Bake in a 120 degree oven in "bagnomaria" for 20 minutes. Serve the ricotta with saffron on a cream made of asparagus, potatoes and scallions, well cooked and blended. Have fun!
Matia Barciulli, chef, Technical coordinator Antinori's restaurants… and father of Brando