Articolo disponibile anche in: Italian
From the incredible collection of Francesco Sorelli's recipes in his splendid book, "La Toscana di Ruffino" (here on Amazon), we often present a tasty recipe, typically from Chianti or Tuscany in general.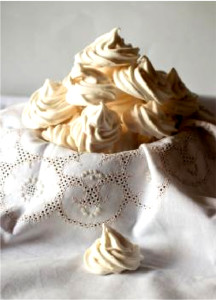 This time we are giving you the recipe for extraordinary meringues, also called "Poppe di Monaca".
Not all egg whites are used to make sweets, therefore whites are sometimes left over. The easiest and tastiest use is for meringues, which are called "Poppe di Monaca" in Florentine dialect, thanks to their form and color.
Meringues are one of the preparations at the base of all pastries. The secret for a good meringue is in the beating of the egg whites.
Once they are peeked, you add sugar and create them with a pastry sleeve; then into the oven and bake!
Francesco Sorelli – My Tales of Tuscany – Photo by Sandra Pilacchi
Read more...