Articolo disponibile anche in: Italian
On Saturday and Sunday, December 10 and 11, from 10 AM until 8 PM, the third edition of the "Formula Chianti" will take place.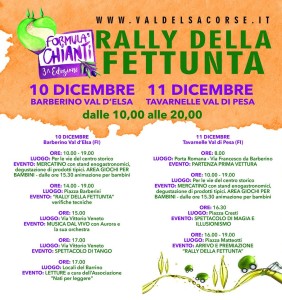 The "Rally della Fettunta" (Fettunta Rally) of 2016 will be held among the townships of Barberino, Tavarnelle, San Casciano and Castellina in Chianti.
This celebration of the new extra Virgin olive oil will have the splendid background scenario of Chianti. The traditional automobile race closes the 2016 season of Italian rallies.
The rich program of "Formula Chianti" includes events on Saturday, December 10, from 10 AM to 7 PM in the historic center of Barberino Val d'Elsa.
There will be a market with food stands and typical local products as well as a play area and animation for children starting at 3:30 PM. From 2 PM until 7 PM, in Piazza Barberini, there will be technical testing for the Rally. In Via Vittorio Veneto, starting at 3:30 PM, there will be live music with Aurora and her orchestra.
At 5 PM, there will be a Tango exhibition in via Vittorio Veneto. Finally, at 5:30 PM, in the "Locali del Barrino", "Una corsa di libri"..…readings by the volunteer "Group of Readers"…"Nati per Leggere (Born to Read) Barberino Tavarnelle".
On Sunday, December 11, at 8 AM in Barberino (Porta Romana-Via Francesco da Barberino), the first vehicle will depart. From 10 AM until 7 PM in the historic center of Barberino, there will be food stands and local products for sale.
Children's activities will start at 3:30 PM, with a Magic and Illusion show in Piazza Cresti in Tavarnelle beginning at 4:30 PM. From 4 PM to 7 PM in Piazza Matteotti, Tavarnelle… arrival and awards ceremony for the "Rally della Fettunta".