Articolo disponibile anche in: Italian
Following the successful first edition, Gaiole in Chianti will once again host "Terre di Gaiole", an event dedicated to the tasting of locally produced wines.
The event is scheduled for Saturday 19th October – from 11am to 7pm – in the prestigious setting of the 'Ex Cantine'.
This year 26 local wineries will be offering 104 wines for tasting. In addition to wine tasting, a panel discussion will take place at 11am, debating the topic "Impacts of climate change on Chianti viticulture. The 2017 case", with the participation of local wine producers and experts in the field.
The discussion will be conducted by Salvatore Filippo Di Gennaro and Alessandro Mattese, researchers at the CNR Biometeorology Institute of Florence.
2018 edition
The "Terre di Gaiole" event, organised under the patronage of the Municipality of Gaiole in Chianti and the Chianti Classico association, is promoted by the Viticoltori di Gaiole association, established at the beginning of 2017 on the initiative of Francesco Ricasoli and Emanuela Stucchi Prinetti.
Their aim was to create a network of large and small local wine companies, to have a complete picture of the wine production sector in the Gaiole territory.
"Wine and territory is the winning combination that lies behind the success of this event – says the Mayor of Gaiole in Chianti Michele Pescini – Bringing together for tasting the high-quality wines of the Gaiole territory, which is well defined from an enological point of view, is a way to create an extraordinary opportunity for the promotion of our area. Wine is a vital part of our culture, having been produced in these lands since Etruscan times. It is undoubtedly one of our distinctive traits and strengths, and the Municipality of Gaiole is planning to work alongside wine companies, to carry out a territorial marketing strategy in a perspective of sustainable tourism development".
"Terre di Gaiole – comments Carlotta Gori, director of the Consorzio Vino Chianti Classico – closes the series of yearly events in the Chianti territory, organised by the various wine producers' associations. This is a special time of year in the Chianti, characterised by the inebriating scents of the grape harvest, which is looking very promising. We're expecting wines from 2019 vintage to be of very high quality. Our territory has a lot to offer visitors, and not only in the wine and food sector, and this kind of events help tourists and wine enthusiasts to live unique experiences under the banner of our great Chianti Classico wines. The Gallo Nero label is synonymous with history, art, gastronomy, passion, human ingenuity and good living".
The tasting will start at 11am and will continue until 7.30pm. Two food stands will also be opened, managed by "I cipressi del Chianti" and "La Sosta del Gallo" from Radda in Chianti. The entrance ticket for the wine tastings is 12 euros per person.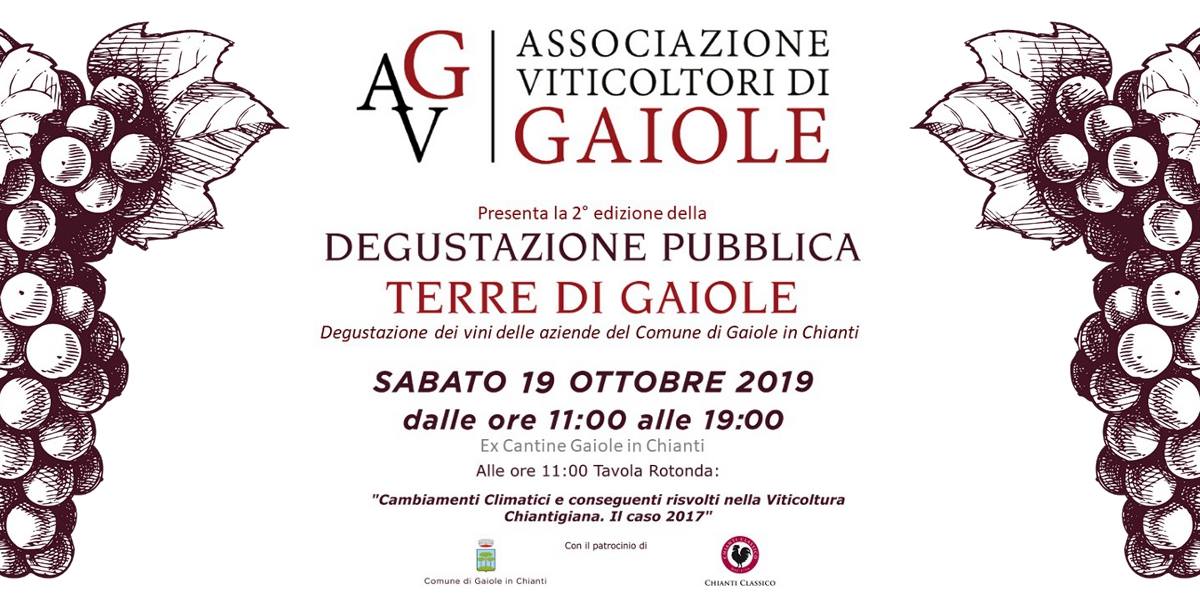 The wineries
La Montanina, Azienda agricola Maurizio Alongi; Badia a Coltibuono; Bertinga Società Agricola; Cantalici; Capannelle; Casanova di Bricciano; Castello di Ama; Castello di Cacchiano; Castello di Lucignano; Castello di Meleto; Fattoria di Rietine; Fietri; I Sodi; Il Colombaio di Cencio; Il Palazzino; La Casa di Bricciano; Le Miccine; Podere Ciona; Ricasoli; Riecine; Rocca di Castagnoli; Rocca di Montegrossi; San Giusto a Rentennano; Tenuta Perano; Tenuta San Vincenti.
Read more...