Articolo disponibile anche in: Italian
The month of June celebrates a "niche" product of the Chianti area, the pine nut.
In Chiesanuova (San Casciano) this has been the case for over half a century, with a special Festival, which this year it'll be held from 7th to 16th June.
Here's the full program.
FRIDAY 7TH JUNE: 8pm – BOXE "L' A.S.D. Sempre Avanti Firenze "presents a great international boxing match with professional bowers; 9.30pm "ESCOalBAR" "Eurotunz" Eurodance live 90s music.
SATURDAY 8TH JUNE: 5pm Food stalls opens; 9.30 pm "IL BANQUETTO SUONA DE ANDRÈ"
SUNDAY JUNE 9th: 9.30 am Holy Mass in the park; 10am MARKET with Local Handicraft and Antiques Market; 12.30pm Lunch at the Restaurant Ì PINOLO; 4.30pm Opening of the vintage toys exhibition "Il Giocattolo d'Epoca"; 6.00pm Concert pro Unicef ​​with the Brass Band Oreste Carlini and the young choir of Chiesanuova. Presenter: Bruno Santini; 9.30pm "F. BARTALUCCI Teather school" presents: "LA FORTUNA SI DIVERTE " comedy in 3 acts.
MONDAY 10th JUNE: 8.30pm Rhythmic Gymnastics show organized by "ASD Il Gabbiano"; 9.30pm "ESCOalBAR" PLANET REBEL The 80's experience with 80s pop music.
TUESDAY, JUNE 11th: 9.00pm Artistic roller skating exhibition "A.S.D. San Casciano Skating "
WEDNESDAY, JUNE 12th: 7.30pm At the "I PINOLO" Restaurant, themed dinner "GIRARROSTO", reservations required (0558242480). For those who do not book, the restaurant is open with the Sagra menu; 9.30pm music with "ESCOalBAR NIGHT".
THURSDAY, JUNE 13th: 9.15pm Show by the Chiesanuova dance school "SANCABALLET"; 9.30pm music with "ESCOalBAR NIGHT".
FRIDAY, JUNE 14th: 6.45pm Bruno Santini presents ""SI STAVA MEGLIO QUANDO SI STAVA PEGGIO", satirical show; 9.30pm "ESCOalBAR" MRS MOON "Jamiroquai Tribute band"
SATURDAY 15th JUNE: 5pm Food stalls opens; 9.30pm Ballroom dancing with "ANGELA MUSIC"
SUNDAY, JUNE 16th: 10.00 am MARKET with Local Craft and Antiques Market; 12.00pm Opening of the vintage car show; 12.30pm Lunch at the Restaurant Ì PINOLO; 5pm How a comic strip is born: Niccolò STORAI; 6.00pm Clown volunteer show Associazione "Viviamo in Positivo Vip Firenze Onlus"; 9.30pm music with "EscoalBAR" – "MALE" band revisits the best Reggae / Ska-style pieces of the 90s! 11.15pm FIREWORKS SHOW.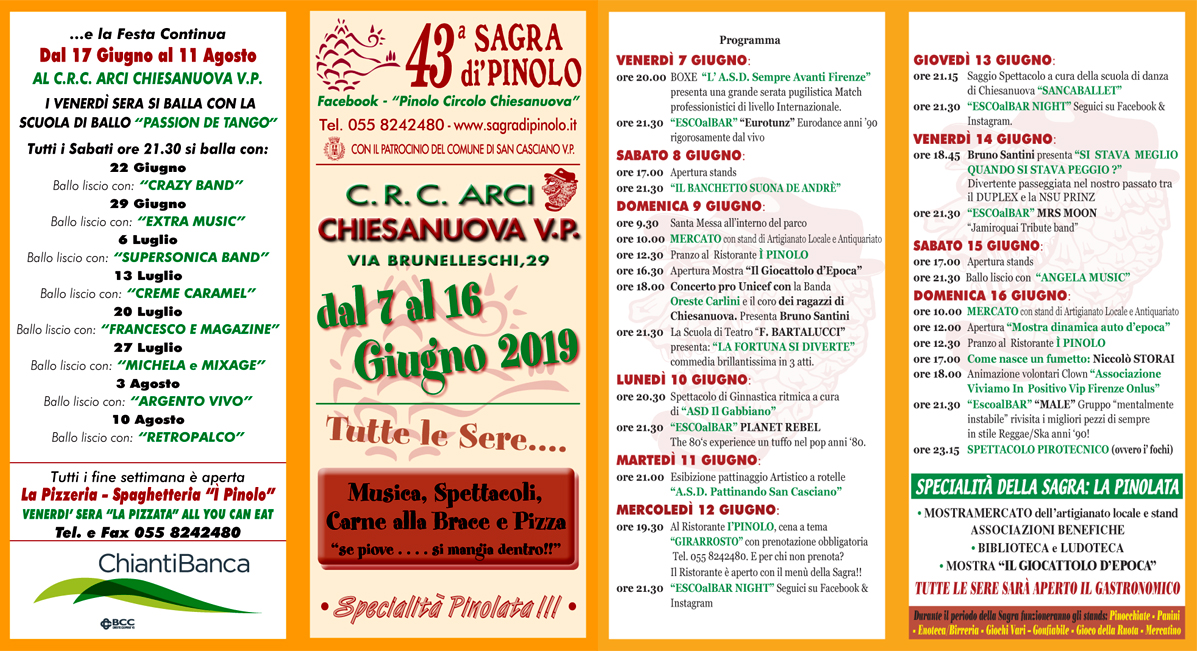 Throughout the festival: exhibition of local craftsmen and charity stands; library and toy library; "Il giocattolo d'epoca" Vintage toys exhibition; every evening the food stalls will be open: "Pinocchiate", sandwiches; Wine / Beer; Various Games; Inflatables; Wheel Game; Street market.
Read more...