Articolo disponibile anche in: Italian
This is the fourth edition of a classic car rally that has become an important event during spring in the Chianti.
It brilliantly mixes passion for vintage cars and love for the Chianti landscape, which is shown in all its beauty to hundreds of people, who come from all over Italy and Europe.
This special occasion is the Firenze-Siena, that will happen on Sunday 15th April organised by the Scuderia Cassiacorse 264 Storica: "Vintage cars, sport, tourism and culture – says the president Luigi Berra – Our area is very beautiful and we're proud to offer a further reason to visit and enjoy it".
A legendary race re-emerges from the past and brings back plenty of emotion, thanks to the Scuderia Cassiacorse 264 Storica, Sambuca club.
Wanting to celebrate classic cars, for four years they have been organizing the re-enactment of a legendary 1950's race on the Chianti Classico roads, with the support of the Automobile Club of Florence and Siena and in collaboration with the Non-profit Association Gruppo Insieme of Greve in Chianti (to which some of the profits will go).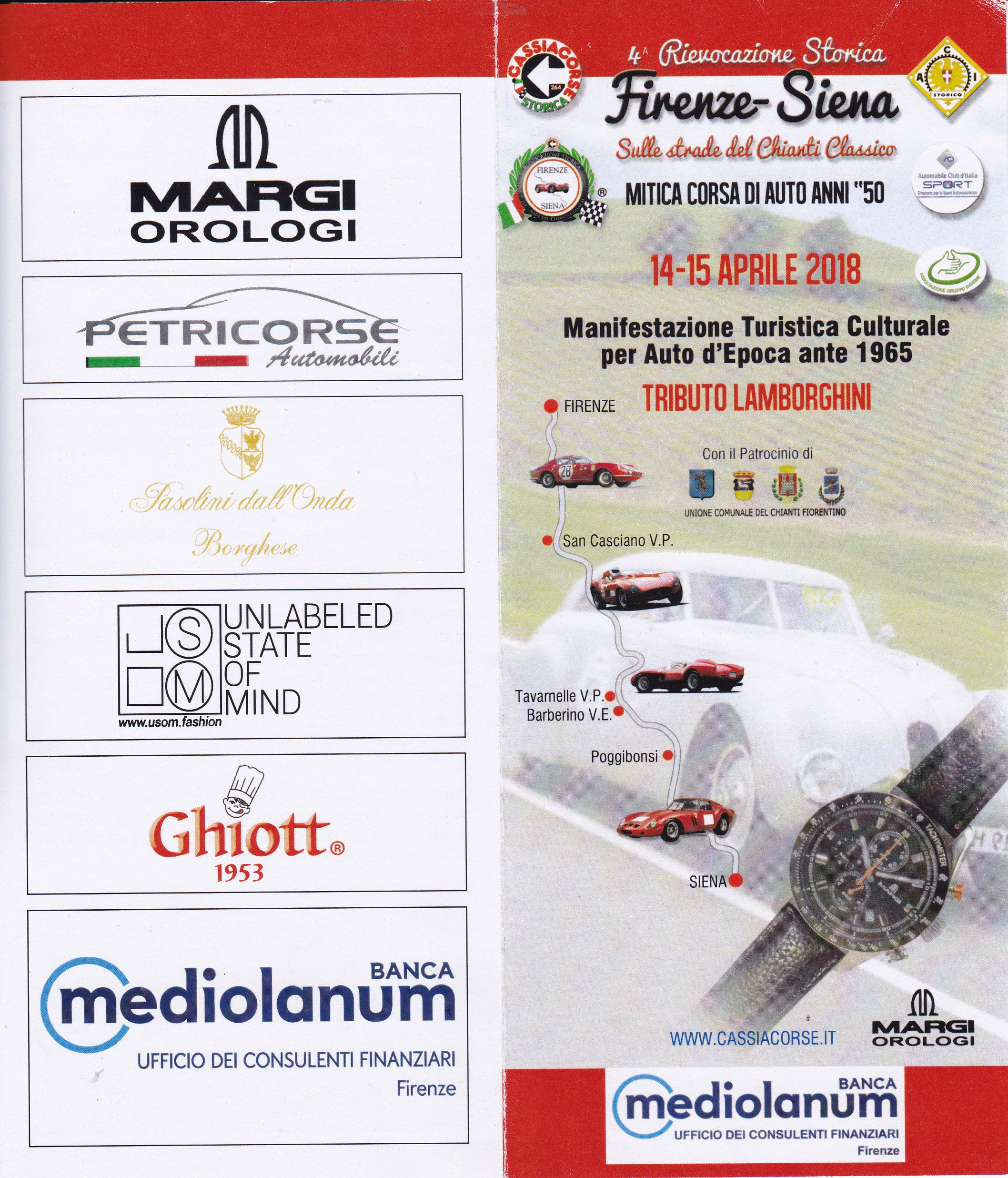 "This year – Berra anticipates – we will have more than 70 participants with cars registered pre 1970. Then the Lamborghini tribute will take place, with 14 splendid vehicles coming from all over Italy; we'll also see some" modern "cars that are around 20- 25 years old".
The original Firenze-Siena race took place on October 25th 1954, departing from Due Strade in Florence, and arriving at Siena Antiporto: 70 kilometres along the Via Cassia, the race was organized by the Automobile Club of Siena and Florence. A reverse route, from Siena to Firenze, was held once, on November 1st 1953.
What was originally a competitive speed race, it has become a parade of classic "jewels": from Alfa Romeo to Porsche, from Lancia to MG, from Fiat to Maserati.
This year the departure takes place in the fabulous setting of the Piazzale del Re in the Cascine Park in Florence, at 9.30am.
The vehicles will be darting along the Chianti roads: passing through Galluzzo, Tavarnuzze, Impruneta, San Casciano – with a check-point at the Officina Bellini – Tavarnelle, Barberino, Poggibonsi, Castellina … .
Info: www.cassiacorse.it.
Matteo Pucci
Read more...