Articolo disponibile anche in: Italian
There could not be a better way to start this December: on Saturday 2nd Vitique Wine & Food Boutique in Greti (Greve in Chianti) is organizing a truly unique evening.
An event dedicated to wine and first-rate food tasting, from 6pm to 10pm, during which you can meet artisans and producers of the excellent products of our territory. Each of them will have his own "tasting island". This could also be the perfect occasion to get some nice gift ideas for Christmas.
I vini in degustazione sono quelli di Santa Margherita Vini: Ca' del Bosco – Cuvée Prestige Franciacorta Docg; Kettmeir – Spumante Brut Metodo Classico Rosè, Alto Adige Doc 2014; Lamole di Lamole – Chianti Classico Docg 2014; Sassoregale – Syrah Maremma Toscana Doc 2015; Torresella – Sauvignon Veneto Igt 2016; Santa Margherita – Valdobbiadene Prosecco Superiore Docg Brut 2016; Terreliade – Timpa Giadda Sicilia Doc 2016; Vistarenni – Chianti Docg 2015.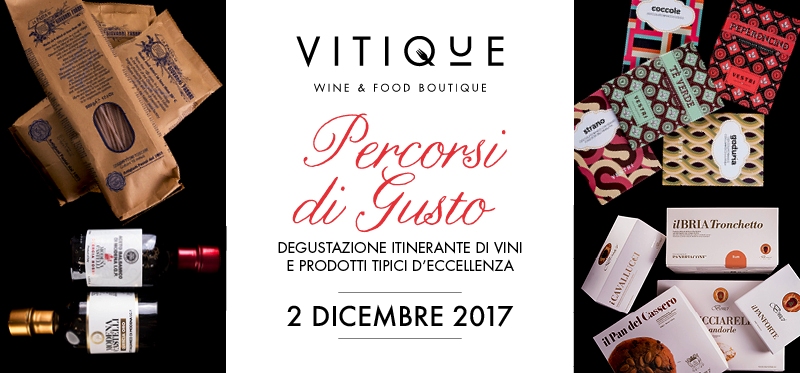 Salumi (cured meat) and cheeses: Ancient Macelleria Falorni, Formaggi de' Magi. Pasta from Pastificio Fabbri, rice from De Tacchi. Balsamic vinegar: Acetaia Castelli. Sweets: Bonci Loison Mattei. La Dispensa Osteria de' Ciotti Ursini Brusadin. Chocolate: Vestri.
Free entrance, 5 euros per tasting. All participants will be given a 10% discount voucher for Vitique's wines and products that can be used from 8th to 24th December.
Information: "Vitique – Wine & Food Boutique", via Citille 43 / b, Greti (Greve in Chianti). Phone: 0559332941. Mail: info@vitique.it.
AVDERTISEMENT
Read more...