Articolo disponibile anche in: Italian
A place that always has contemporary art on the walls and fresh food in the kitchen, that mixes local fare with international expertise, authenticity and creativity.
This is Fitti Fitti, the restaurant recently opened in via Naldini, in Tavarnelle, by Tommaso Calosi and his partner Myung Sim Song. We love the minimalist design of the interior.
The name (that in Italian means "packed") comes from the nickname given to the steep Via Naldini, which used to be called "Su' pe' fitti".
It opened its doors a few days ago – at the moment serving dinner from Tuesday to Sunday – and has already proved to be a success. "This is our first experience with a restaurant – Tommaso and Myung say – we have 6-7 years of experience in catering: weddings, agriturismi, and we've also worked in Florence. Our speciality was the typical Tuscan cuisine".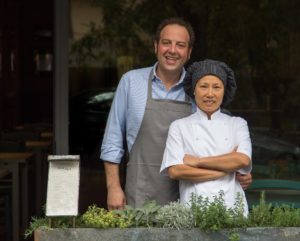 She's from Korea, though you could say she's a citizen of the world. She became a cook by chance, thanks to her determination. Her family wanted her to go into nursing, and she loved singing and art.
But it was thanks to kimchi, the traditional Korean dish made of fermented cabbage, that she has turned to cooking.
After having travelled the world – China, Australia, New Zealand, Japan, England, France, – she made her home in Tuscany, near Florence, the cradle of the art she's so passionate about. Right here in the Chianti region, where Tommaso and her share their passion for cooking.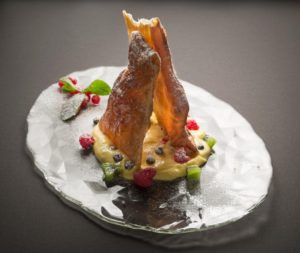 "We mainly serve "pesce azzurro" – Mediterranean fish such as mackerel, sardines, anchovies. But also delicious cod and tuna, shellfish and shrimps".
The menu, that you can find on their website (www.fittifitti.it), speaks for itself: fried anchovies; fish tartare; mackerel millefoglie with marinated boiled egg, soy sauce and ginger; sardine pie and seasonal vegetables; fish of the day calamarata pasta; risotto; mackerel sauce tagliatelle; a variety of fried fish; fried squid and pink shrimps. You'll find this and much, much more. Top quality and good value for money.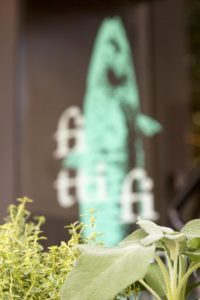 Tommaso's father, Paolo, used to own a contemporary art gallery in the '80s, and some of his art pieces are now on the walls of "FittiFitti".
Tommaso, a wine expert with a degree in oenology, has set up his own cellar, with many white wines and a few reds. "We don't have Chardonnay or Sauvignon – he says – just local Italian wines. Many are organic."
So what are you waiting for? Be the first to try these specialities!
For information: Tel 0558076271 – 3288263723, info@fittifitti.it, website www.fittifitti.it.
ADVERTISEMENT
Leggi altri articoli...