Articolo disponibile anche in: Italian
Two diverse neighboring territories are joining forces with their renowned products on the made in Italy wine/food scene; Chianti Classico Gallo Nero, produced in the hills between Florence and Siena and this year celebrating its 300 anniversary and the white truffle from the Crete Senesi, produced in the township of Asciano, on 15 hectares of controlled truffle farms. Together they represent a true goldmine for the gourmets of the world.
The marriage between the two will take place during the next exhibition/market in the township of Asciano from December 8 to December 11.
There are two appointments that shouldn't be missed: the dinner on December 10 at the beautiful Scuderie del Granduca di Asciano, where the white truffle will be the main ingredient in dishes created by some of the most celebrated winning chefs of Italy.
Paolo Gramaglia from the Ristorante President Di Pompei, Claudio Sadler of Ristorante Sadler di Milano, Giancarlo Morelli of the Ristorante Pomiroeu of Bergamo, Silvia Baracchi from the Relais Chateau Il Falconiere di Cortona, Gianluca Fusco from the Pasticceria Fusco of Milano and Emiliano Rossi of the Osteria del Teatro, Cortona.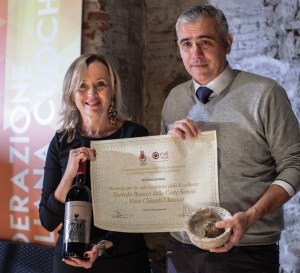 For this occasion, the chefs' creations based on white truffles will be accompanied by Chianti Classico from the producers of Castelnuovo Berardenga.
There will be 14 wineries from the Association, Classico Berardenga (born in 2015 to promote and advertise their production territory together with the Consortium of Chianti Classico Wine) which will present their Gallo Nero wines paired with dishes made with truffles:  Borgo Scopeto, Carpineta Fontalpino, Castell'in Villa, Dievole, Fattoria di Corsignano, Fattoria di Petroio, Felsina, La Lama, Losi Querciavalle, Miscianello, Poggio Bonelli, San Felice, Terra di Seta, Villa di Geggiano.
The same wineries will be present at the four days of exhibition/market with a stand from the Associazione Classico Berardenga.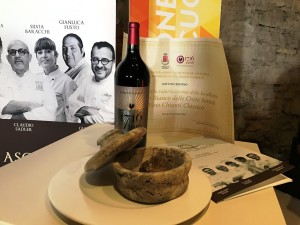 The second occasion is dinner on the day after, December 11, "Il Tartufo bianco incontra Giorgione".
The protagonist is the celebrated chef of the Gambero Rosso Channel, and will also take place at the Scuderie del Granduca, with a menu paired with wines from Gaiole in Chianti area wineries: Badia a Coltibuono, Barone Ricasoli, Capannelle, Castello di Ama, Castello di Cacchiano, Castello di Spaltenna, Agricola Matteoli, Montagnani, Riecine, Rocca di Castagnoli.
"I would like to thank the mayors of Asciano and Castelnuovo Berardenga, who first proposed this matching, for this opportunity, as well as the organizers of the exhibition/ market of Asciano. We will be participating in this event with great enthusiasm, for its ethical value as well: part of the proceeds of the dinners will be donated to Norcia, strongly hit by the October 30 earthquake", declared Giuseppe Liberatore, Director general of the Consortium of Chianti Classico wine.
"The white truffle of the Crete Senesi, like Chianti Classico is not only an excellent product but an icon of quality of our country and particularly of our region. For this we are happy to close the celebrations of the 300th anniversary of Chianti Classico Gallo Nero with this important event and we applaud the connection which we will we hope will last and grow over time. It is a partnership that we will bring beyond the borders of our region, in Italy and in the rest of the world."