Articolo disponibile anche in: Italian
"Christmas in San Casciano": the program of events organized by Pro Loco San Casciano, CCN La Dolce Gita, Siproimi is very rich, with the patronage of the Municipality of San Casciano and the support of ChiantiBanca.
Saturday 30 November
4 pm lighting of the lights; presentation of the new book by Andrea Merli "And then it grows" in the Cupola Room of the Acli circle.
Sunday 1 December
4.30 pm at the Everest Cinema Theater, "Disney Syndrome", show of the district of "Cavallo".
Saturday 7 December
4 pm, in the streets of the historic center , Santa Claus with his buggy.
Sunday 8 December
4 pm Historical procession of the districts of the Medieval Carnival in the streets of the historic center. At the end of the parade, lighting the tree under the medieval walls with the decorations made by the children of the school. Following snack in the square with bread and Nutella offered by the CCN.
Saturday 14 December
11 am at the headquarters of the Pro Loco in via Machiavelli laboratory of manual activities in English for children aged 7 to 10 years. Info and reservations: Deborah Chellini 3206249012.
Sunday 15 December
4 pm Santa Claus and his gig in the streets of the historic center. At 4.30 pm concert of the gospel choirs Pilgrim Gospel and Academy Singers conducted by Maestro Gianni Mini.
Saturday 21 December
3 pm and 4.45 pm at the Teatro Niccolini Arca Azzurra Training / Teatro dei Passi and Centro Danza Chianti present the show "Fantasie di Natale". 6 pm concert by the Quodlibet choir at the church of San Francesco.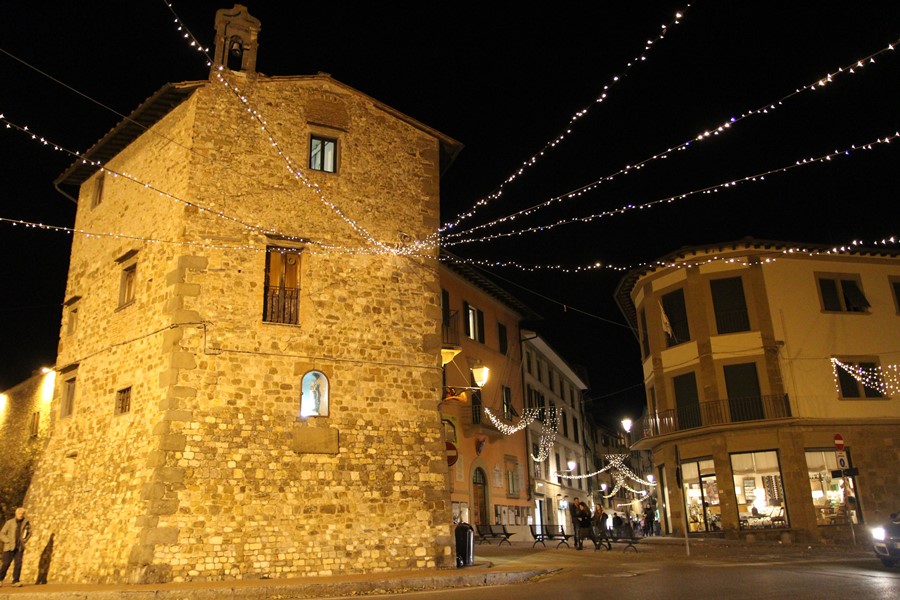 Sunday 22 December
4.3 pm through the streets of the historic center, a traveling concert by the street band Old Florence Dixie Band.
Monday 23 December
From 5 pm to 6.30 pm in the local Pro Loco venues rhythm games and musical workshop for children and adults by Sprar / Siproimi project and Destination West Africa Association.
From 8 to 23 December for every 50 euros spent, which can be accumulated in the shops that have joined the Christmas initiatives, a "Scratch Christmas" ticket (a scratch card with beautiful prizes, up to exhaustion coupons) will be delivered.
Read more...