Articolo disponibile anche in: Italian
A very special walk is scheduled for Thursday 9th August, "La Romea Sanese … una notte d'Agosto", from Quercegrossa to Castellina in Chianti.
Meeting point is at 5pm at the parking lot in front of the ice cream shop Gelateria di Castellina (Viale IV Novembre 47); at 5.30pm departure by coach to reach Quercegrossa (small square on the Chiantigiana road, next to the newsstand); at 6pm the walk starts from Quercegrossa.
At 8pm, rest and refreshments in Fonterutoli; at 10.30pm arrival and final "pastasciuttata" dinner at Castellina in Chianti in via delle Volte.
The path is about 11 km long – (altitude difference 500 meters uphill and 250 meters downhill).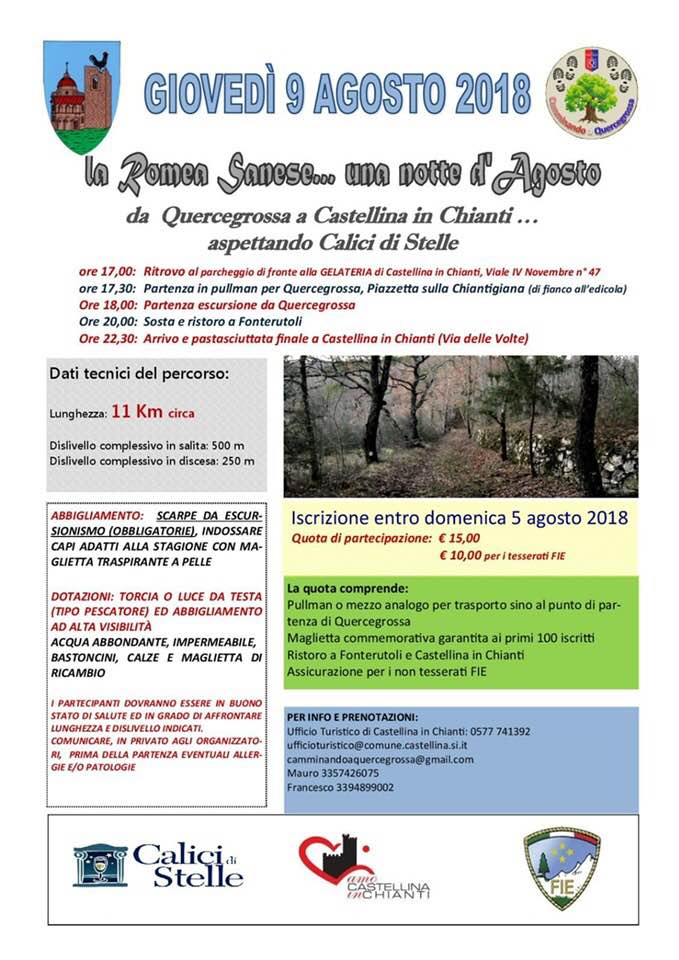 What to wear and bring with you: hiking shoes, clothes suitable for the time of year, torch or head light, water, raincoat, socks and spare t-shirt.
The first 100 members will receive a "commemorative t-shirt".
Info, information and registration (before 5th August): Castellina in Chianti Tourist Office, 0577741392, ufficioturistico@comune.castellina.si.it; camminandoquercegrossa@gmail.com; Mauro (3357426075); Francesco (3394899002).
Read more...