Articolo disponibile anche in: Italian
This Summer the musical-gastronomic event organized by the Corpo Musicale Oreste Carlini is back at the Parco del Poggione, in San Casciano Val di Pesa. The 13th edition of this music festival will take place from 19th to 29th July with a rich and engaging program.
For the duration of the festival you'll find various food stalls, a pizzeria (also offering takeaway), and bar service. Shows and music every night, all strictly for free.
Thursday 19th July: 9.30pm "CECCAO MERAVIGLIAO" with the Tacito Accordo.
Friday 20th July: 9.30pm performances and music by the "HAPPY DANCE '99" Dance Group.
Saturday 21st July: 9.30pm dancing with the "MILLE RICORDI" orchestra.
Sunday 22nd July: 9.30pm concert of the "GIACOMO PUCCINI" PhilharmonicOrchestra of Borgo a Buggiano, directed by Maestro Fabio Menicucci.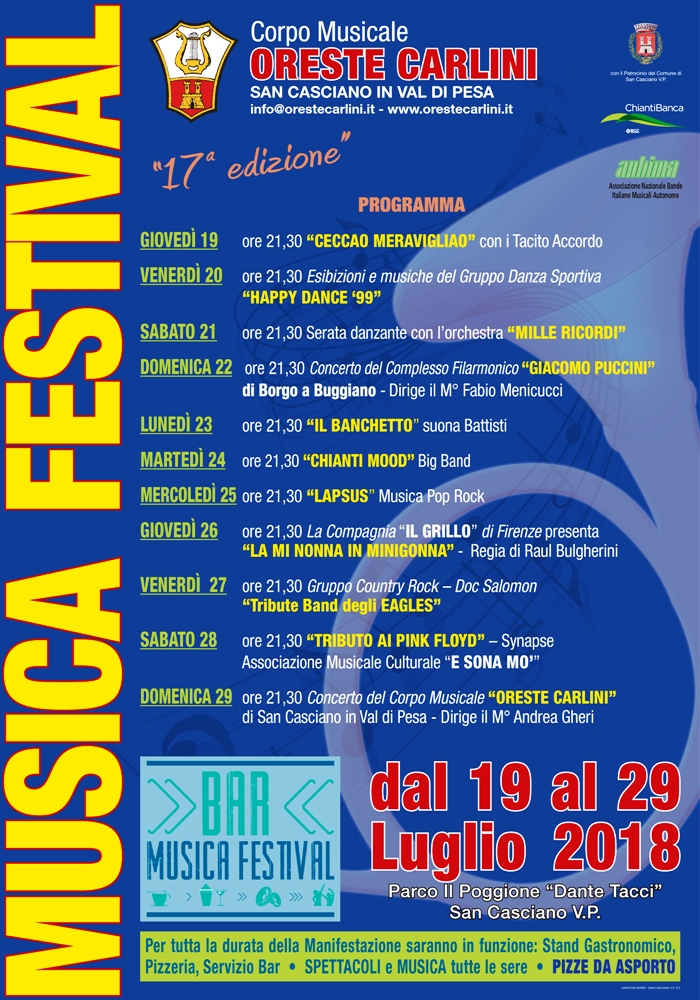 Monday 23rd July: 9.30pm "IL BANCHETTO" band plays Battisti's songs.
Tuesday, July 24th: 9.30pm "CHIANTI MOOD" Big Band.
Wednesday 25th July: 9.30pm "LAPSUS" in concert, pop rock music.
Thursday 26th July: 9.30pm "IL GRILLO" Theatre Company from Florence stages the play "LA MI NONNA IN MINIGONNA", directed by Raul Bulgherini. With Sergio Forconi.
Friday 27th July: 9.30pm the country rock group Doc Salomon, "Tribute Band of the EAGLES".
Saturday 28th July: 9.30pm, "TRIBUTE TO PINK FLOYD", Synapse Associazione Musicale Culturale "E SONA MO '".
Sunday, July 29th: 9.30pm concert of the Corpo Musicale "ORESTE CARLINI" of San Casciano, directed by Maestro Andrea Gheri.
Read more...