Articolo disponibile anche in: Italian
On Sunday, April 9, at noon and at 4PM, the Marchesi Mazzei Estate will open the doors to its wine cellar at the Castle of Fonterutoli for 2 guided tours in favor of the ANT Foundation.
Up to 40 people will be able to participate in the tour, which includes wine tasting. The site is famous for its classical contemporary style and the function of its areas.
The wine cellar, which appears suddenly, without braking the harmonic equilibrium among nature, territory and ancient village, greets the visitor and follows him in a path of growing surprise, arriving at the lowest floor and the barrel hall, 15 meters underground, creating emotions in a space which is almost sacred and inviolable.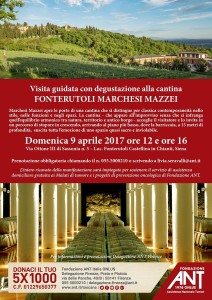 To participate, reservations are required. Call 055-5000210.The cost is a minimum 20 Euro offer, 10 Euro for children between 6 and 13. Children under 6 are free.
All funds collected will be donated to the activity of ANT in Florence, Prato and Pistoia.
The ANT health structure in the Tuscan region is made up of 9 doctors, 6 nurses and 3 psychologists.
Read more...