Articolo disponibile anche in: Italian
Six shows and two non-subscription events will liven up the 2016 – 2017 theatre season at the Vittorio Alfieri town theater of Castelnuovo Berardenga. "Teatro e Letteratura" is presented once again with the collaboration of the "Toscana Spettacolo" Foundation and under the artistic direction of "Lo Stanzone delle Apparizioni" .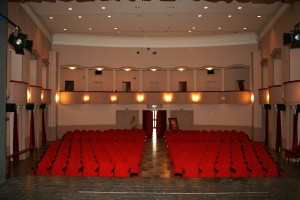 "Il giro del mondo in 12 anni; avventure d'un toscano con gli occhi aperti" (Around the World in twelve 12 years; adventures of a Tuscan with his eyes open), first of two non-subscription appointments by "Teatro e Letteratura" which returns with the usual poetic introduction by the author, beginning at 6:45 PM and followed by a buffet dinner at 8 PM and a staged reading at 9 PM.
The theater season will come alive on Sunday, December 4, with "Angelicamente Anarchici Fabrizio De Andre' e Don Andrea Gallo", by Michele Riondino (who will give voice to the words of Don Andrea Gallo telling his fifth gospel  according to Fabrizio De Andre') and will continue until March 18.
"Il giro del mondo…." is directed by Daniela Morozzi and Matteo Marsan and interpreted by Giuseppe Scuto and the students of the Alfieri theatre workshop. Music is curated by Giacomo Rossi.
This show offers a vivacious and unusual account of a young Florentine merchant who, between 1594 and 1606, crossed the globe and met their peoples, learning different thoughts and lifestyles.
"Teatro e Letteratura" will return as protagonist at the Vittorio Alfieri Theatre on Saturday, February 25, with "Il nemico in casa, women and female writers of Algeria", by Matteo Marsan and interpreted by Giuseppe Scuto and Daniela Morozzi, accompanied by the music of Stefano "Cocco" Cantini.
The theater season will continue on Monday, January 8, with the ballet, "Cenerentola" (Cinderella), in its national debut. Choreographer is Roberto Sartori for Kaos Balletto of Florence; on Saturday, January 21, the comedy by Nuzzo and Di Biase, "Gli impiegati dell'amore"; Thursday, February 2, "Sotterraneo" will present its original adaptation of "Around the world in 80 days-story game between Jules Vern and Sotterraneo", to be repeated on Friday, February 3 at 10 AM for schools.
Two classics will close the theater's season in Castelnuovo; Saturday, March 4, Alessandro Benvenuti stars in "L'avaro" (The Miser) by Moliere, directed by Ugo Chiti and Saturday, March 18, "Il mercante di Venezia" (The merchant of Venice) by William Shakespeare, revisited by the theater company, Con-fusione.
---
All shows will begin at 9:15 PM Subscriptions and tickets can be reserved with the theatre secretary by contacting the number 0577-351345 from Tuesday to Friday, from 10 AM to 1 PM and on Saturday from 10 AM to 7 PM. They can be picked up at the box office the evening before the show.
For the two nonsubscription appointments, the cost is €15 for the dinner. The poetic introduction and staged reading are free. Reservations are obligatory at 0577 – 351345, from Monday to Friday from 9:30 AM to 12:30 PM, or calling either 335 – 618-8690 or 333 – 819-3407. You can find the entire program at the following sites; www.teatrovittorioalfieri.com or www.toscanaspettacolo.it.