Articolo disponibile anche in: Italian
From December 21st to January 5th: Christmas in Radda in Chianti unfolds through a series of events that will begin on Saturday, December 21st to end, with the new year, Sunday, January 5th.
It starts on Saturday 21 and Sunday 22 December, in Piazza 4 Novembre, with fundraising for Telethon.
Sunday 22 December, at 4 pm at the Misericordia Cinema, "Scandalo a I 'Buio", brilliant comedy in three acts by Gianluigi Ciolli (Theater Company "F. Campana"). Admission is free.
Monday, December 23, in Piazza 4 Novembre and viale Matteotti, Monday's Market Fair.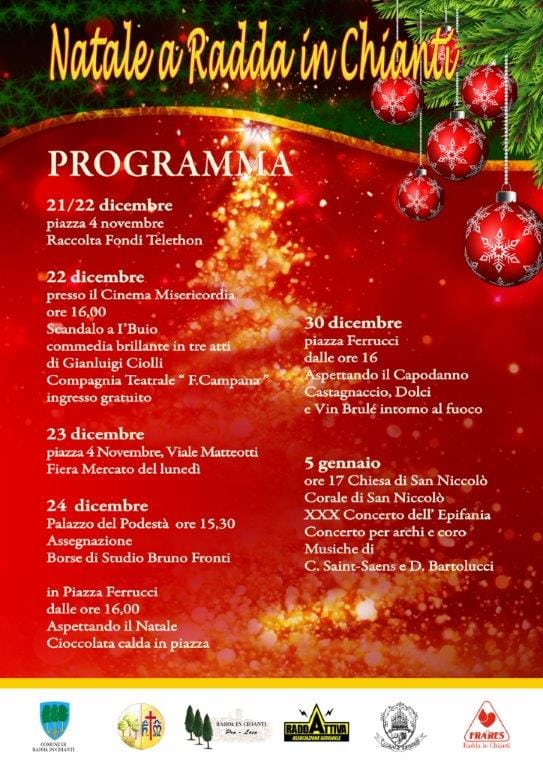 Tuesday, December 24th, at 3.30 pm in the Palazzo del Podestà, assignment of the Bruno Fronti Scholarships. In Piazza Ferrucci from 4pm, "Waiting for Christmas" with hot chocolate.
Monday 30 December in Piazza Ferrucci "Waiting for the New Year" with castagnaccio, sweets, mulled wine around the fire.
Finally, on Sunday 5 January, at 5 pm in the church of San Niccolò, the Corale di San Niccolò performs in the XXX Concerto dell'Epifania, for strings and choir. Music by C. Saint-Saens and D. Bartolucci.
Read more...