30aprTutto il giorno15mag"Pneuma": the works of Marcela Gottardo among the irises of Leonardo ManettiGreve in Chianti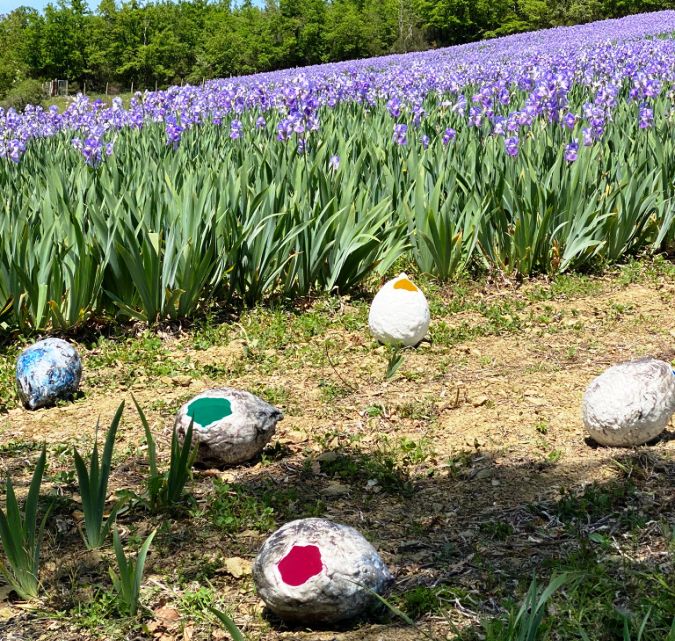 Dettagli dell'evento

Articolo disponibile anche in: Italian

Articolo disponibile anche in:
Italian

Marcela Gottardo presents her work "Pneuma" in Greve in Chianti, in the field of flowering irises of the Manetti Leonardo farm.

The exhibition opened on April 30th and closes on May 15th, except for extensions.

This installation features sculptures of varying sizes arranged in the cultivated Iris field and explores the classical Greek elements: earth, water, fire and air.

The materials of the work perfectly in symbiosis with nature are: wax, ash, pigments and plaster.

Many times art in general seems to have become too sophisticated and far from truth and nature.

Art is, also, nature: a symbiosis that is expressed in simple artistic expressions. We need pure and simple things that touch people's hearts and draw from everyday life.

It is important for everyone to rediscover that childish background kept in each of us and open to the wonder of the world that still makes us dream.

First created in 2019, "Pneuma" uses the element of air and the balloon as a structure for the sculpture.

The gypsum collar shapes matter through the process from solid to liquid and back to solid.

The use of wax and ash, the mutation of the hot liquid state in the cold transforms the act of painting into a layered material painting.

The cast of everyday objects, such as the balloon, implies presence and absence, and is the starting point of the work, a moment of poetic amazement of the simple things in life.

For Marcela, formal explorations in painting and sculpture are metaphysical and philosophical meditations on the nature of being and time.

At first glance, the installations seem like large eggs, elements that can be found in nature and that can give rise to another theme of the work, namely pneuma as a principle of life.

In fact, the term "Pneuma", that is, that one breathes or blows, has multiple views in ancient Greece.

Marcela Gottardo is an artist born in Brazil in 1982.

He lived for twelve years in Los Angeles, California, USA, where he earned a Master of Fine Arts in 2014 and a Bachelor of Fine Arts in Painting in 2012 from Otis College of Art and Design. Marcela moved to Pistoia, Italy, in 2015, where she now lives and works.
Info
Azienda Agricola Manetti Leonardo: 3288117607 (www.leonardomanetti.com)
Marcela Gottardo: 3441053133 (www.gottardomarcela.com/)
Scopri di più
Orario

Aprile 30 (Sabato) - Maggio 15 (Domenica)