08lugTutto il giorno02setThe piazza is alive, long live the piazza!Tavarnelle Val di Pesa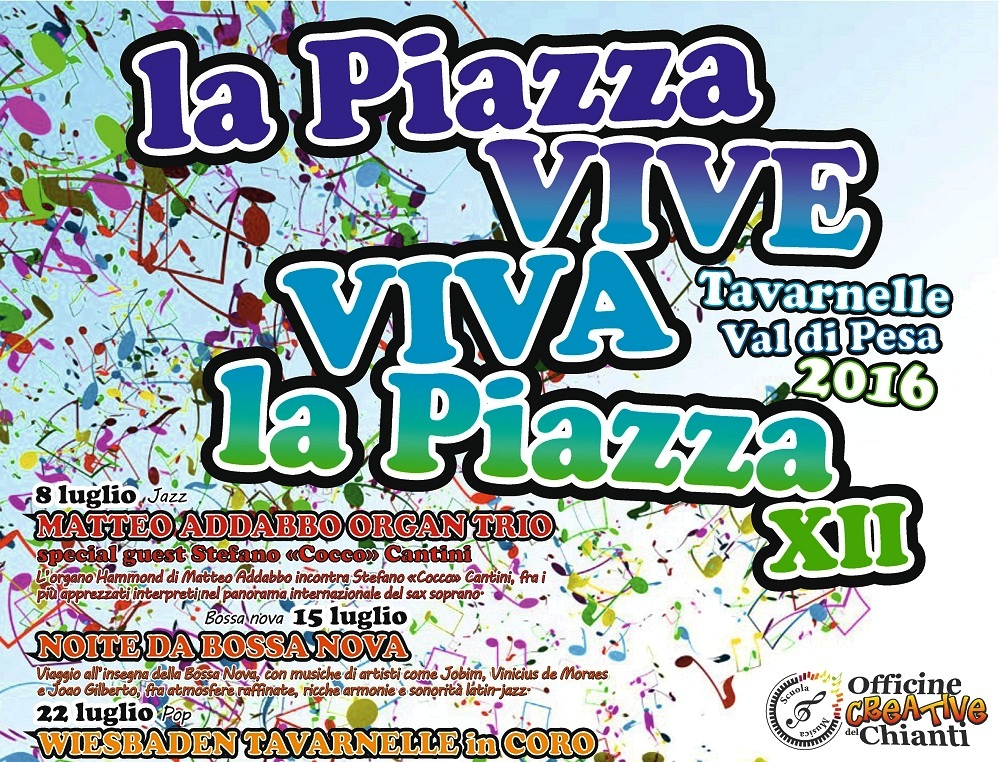 Dettagli dell'evento

Articolo disponibile anche in: Italian

"La piazza vive, viva la piazza" (The piazza is alive, long live the piazza) is a series of musical events in Tavarnelle performed in the heart of town, in Piazza Matteotti.

From July 8 to September 2 there are 9 shows on the program, lighting up Chianti nights with a wide array of music: jazz, bossa nova, pop, ethnic, rockabilly, swing and "forro'".

The opening program is set for Friday, July 8, at 9:30pm. The Matteo Addabbo Organ Trio will perform in a concert honoring great jazz with an appearance by Stefano "Cocco" Cantini, one of the most appreciated international performers of the soprano sax.

On July 15 at 9:30pm the "Noite da Bossa Nova" will make an appearance.; a voyage through the music of Jobim, Vinicius de Moraes and Joao Gilberto, through refined atmosphere, rich harmony and sounds of Latin-jazz.

On July 22, the Wiesbaden Chorus of Tavarnelle will be on the stage. A concert by the group, "Rock & Pop 'Sinfonie'" together with the "Five Season Chorale of Wiesbaden" and the "Santa Lucia al Borghetto" Chorale of Tavarnelle will be on the scene.

The July program ends on the 29th at 9:30pm with the Tzigana music of the "Note Noire Quartet", inspired by gypsy jazz, featuring middle Mediterranean, Middle European and tzigane (gypsy) influenced music.

The month of August will see other Italian and international music stars on the stage of Piazza Matteoti; Marco di Maggio (August 5) and Emanuele Dabbono, third place in the first edition of the Italian version of XFactor (August 19).

The "Forrò Mior" will perform on August 12 and the "Big Band 50028" on the 26th.

The closing show on September 2 will feature the Orchestra of the Music school, "Officine Creative del Chianti", with music from well known movies.

Entrance is free. In case of bad weather, the shows will take place in the "Circolo La Rampa".
Orario

Luglio 8 (Venerdì) - Settembre 2 (Venerdì)
Location

Tavarnelle Val di Pesa