20magTutto il giorno21The "Cammino dell'Angelo": trekking and pilgrimage in the heart of historic ChiantiGaiole in Chianti
Dettagli dell'evento

Articolo disponibile anche in: Italian

Articolo disponibile anche in:
Italian

On Saturday and Sunday, May 20 and 21, the first edition of the "Cammino dell'Angelo" (Angel's Walk) will take place in Gaiole in Chianti in the heart of historic Chianti.

It is a mystic voyage along a winding trekking course 45 kilometers long in the discovery of places of religion tied to San Michele.

The Chianti mountain ridge is crossed by intersecting paths, rich with sacred meaning, once protected by cavaliers and monastic orders and visited by the pilgrims who were going to Rome as well as by transuming shepherds leading their flocks.
There are still trace of the past today among forests, vineyards and olive groves, antique Romanic churches, countryside churches, fortified villages and street chapels, all tied to the cult of Saint Michael, protector of pilgrims and shepherds.
Along these roads traveled long ago by pilgrims, present day pilgrims return on their walk. For each segment, a travel document which will always accompany the pilgrim, will be bestowed, thus certifying the completion of the pilgrimages.
The "cammino dell'angelo" is promoted by the Fondazione Chianti Storico with the Tuscan community, Il Pellegrino, the excursionist group of Berardenga, La Storica, Evorart and Press&Archeos as partners. The following are also collaborating: Association La Racchetta of Gaiole in Chianti; Asd Chiantigiana; Acli Club Don Osvaldo Milani of Lecchi in Chianti; the Misericordia of Gaiole; Gallo Nero Volley; the archeological group, Salingolpe; the parishes of the  Vicariato del Chianti Senese e Fiorentino; the pro Loco di Gaiole in Chianti and Radda in Chianti; the Vannetti Philharmonic Society.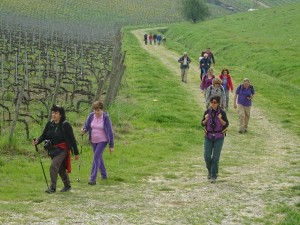 To participate, you must pay the entry fee of 15 euros by May 12, 2017, and send the application for membership to fondazione@chiantistorico.toscana.it .
You can download information, the program and the entry form at http:// mediaframe.it/cammino-angelo-progetto-adesione.zip.
Scopri di più
Orario

maggio 20 (Sabato) - 21 (Domenica)
Location

Gaiole in Chianti