05ott20:0023:00"Alchimia de' Formaggi": an extraordinary evening dedicated to cheese and wine tasting at VitiqueGreti (Greve in Chianti)
Dettagli dell'evento

Articolo disponibile anche in: Italian

Cheese enthusiasts rejoice! On Thursday, October 5th, you'll love Vitique, the wine & food bistrot in Greti (Greve in Chianti), that organises an evening whose title says it all, "Alchimia de' Formaggi", or "alchemy of cheeses".

A tasting event with a selection of cheeses chosen by cheese researcher Andrea Magi, an expert Maestro Assaggiatore and Delegate for Arezzo and Siena of the National Organization of Cheese Tasters – (Organizzazione Nazionale degli Assaggiatori di Formaggio).

The chefs of Vitique will use these cheeses to create extraordinary and unique dishes. Wine pairings with Santa Margherita wines.

Are you ready? Here is their exceptional menu (in quotes the cheeses, in brackets the matching wines): "Alfiere" and cime di rapa (Sparkling Mueller Thurgau Brut); "Scacchiera" in carrozza and hollandaise sauce (Valdobbiadene Prosecco Superiore Docg "Rive di Refrontolo" 2016); Risotto "Mascherpa", porcini mushrooms and raspberries (Feldi South Tyrol Doc 2016); baked lamb with "Piparello" crust and cauliflower couscous (Refosco "Impression of Founder" Lison Pramaggiore Doc 2014); Cheese platter (Dulcedo 2013).

The evening starts at 8pm with the welcome aperitif and the tour of the Santa Margherita Tenimenti Toscani wine cellar in Greti; at 8:30pm tasting dinner.

Price: 40 euro. Info and reservations (limited places): Vitique – Wine & Food Boutique. Via Citille 43 / b, Greti (Greve in Chianti). Phone number: 0559332941. Mail: info@vitique.it.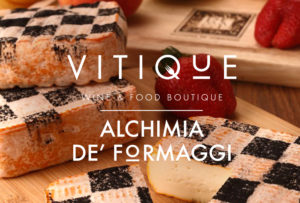 ADVERTISEMENT
Orario

(Giovedì) 20:00 - 23:00
Location

Greti (Greve in C.)