11giuTutto il giornoWalking and eating: the "Gastronomarcia" on June 11 from Barberino Val d'Elsa to TavarnelleMonsanto (Barberino V.E.)
Dettagli dell'evento

Articolo disponibile anche in: Italian

Articolo disponibile anche in:
Italian

A new trail, new paths and new places to visit: the "Gastronomarcia", which takes place every year in the countryside between Barberino Val d'Elsa and Tavarnelle (this year on Sunday, June 11), is not a competitive race, but a walk of medium difficulty among forests, vineyards and paths in Monsanto with refreshment stands along the way.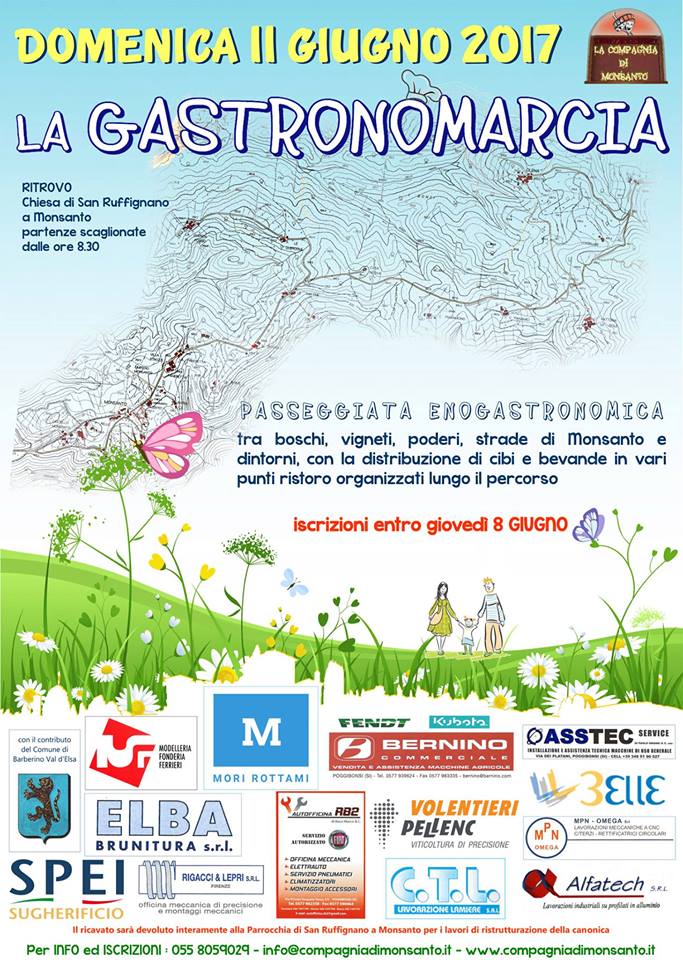 From breakfast to the aperitif at lunchtime, and lunch are available, (because as we know, your apetitite increases as you walk).
It is an occasion to spend a day together outside with the excellent organization of La Compagnia di Monsanto, to discover the treasures and tastes of Chianti.
The profits from this event will be entirely donated to the Parish of San Ruffignano a Monsanto to contribute to the restorations that it will go under.
Sunday, June 11, the meeting place is at the church of San Ruffignano a Monsanto (Barberino Val d'Elsa).
Departures from 8:30 to 9:30 AM. Vegetarian menu available upon request at sign-up.
Cost: adults, 25 euros, children from 6 to 14, 10 euros, under 10, free. Entry will close on Thursday, June 8.
Smaller participants can arrive at the refreshment points by following signs along the road. Ask the organization for this possibility when you sign up.
Call 055 8059029, or e-mail info@compagniadimonsanto.it – lacompagniadimonsanto@gmail.com to participate.
Scopri di più
Orario

Tutto il giorno (Domenica)
Location

Barberino Val d'Elsa (Monsanto)