14aprTutto il giornoGuided tour with wine tasting at the Cantina di Fonterutoli. In support of ANTCastellina in C.
Dettagli dell'evento

Articolo disponibile anche in: Italian

For the third consecutive year, a guided tour with wine tasting will be held – in support of the Fondazione ANT – at the Fonterutoli Winery, a charming place overlooking the Marchesi Mazzei estate set in the scenic countryside near Siena, a few kilometres from Castellina in Chianti.

On Sunday 14th April it will be possible to visit the winery by joining one of the three groups scheduled for 12pm, 3pm and 5pm.

The entire proceeds of the event will be donated to the Fondazione ANT. There are 40 seats available in each group, and three wines offered for the tasting.

This place stands out for its classic contemporary style and beautiful location. The cellar – which suddenly appears, in perfect harmony with the surrounding landscape and the ancient hamlet – dominates the estate and the Sienese countryside.

But its heart is deep down in the cellar; the visitors will be invited to embark on a wonderful journey inside the cellar, down to the lowest floor, where the barrel room, at 15 meters deep, has all the atmosphere of a sacred space.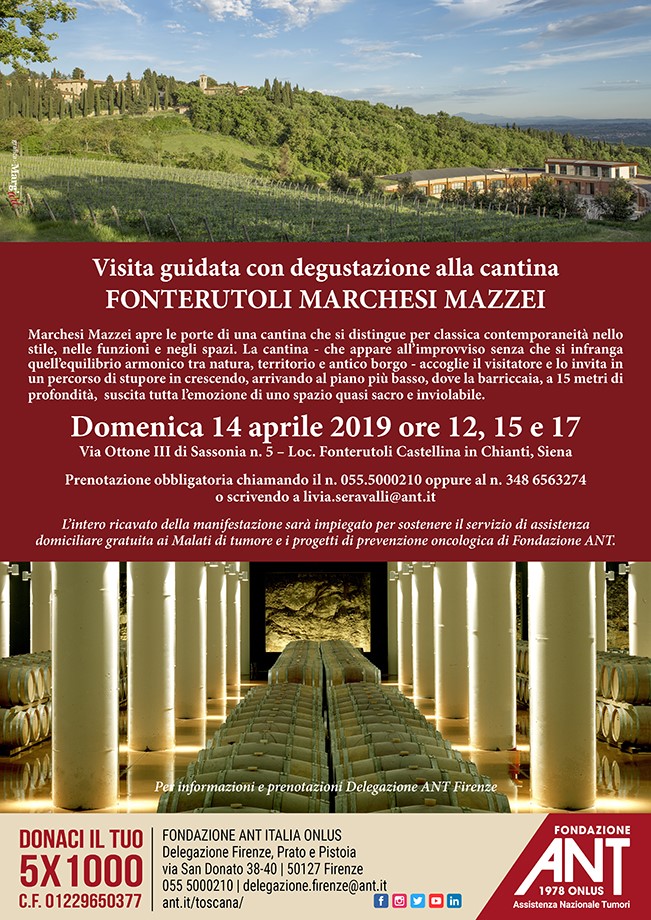 To participate in the event it's mandatory to book by calling 0555000210 or by writing to livia.seravalli@ant.it. The minimum offer will be 22 euros per person, for adults. Admission will be free for children up to 12 years old.
All funds raised will be donated to support the ANT's activities in Tuscany, first of all to the free cancer prevention program organised by Fondazione ANT in 2019 in Siena and its province, through the Progetto Melanoma.
Orario

Tutto il giorno (Domenica)
Location

Castellina in Chianti