16giuTutto il giorno19The 45th edition of the Sagra di' PinoloChiesanuova (San Casciano)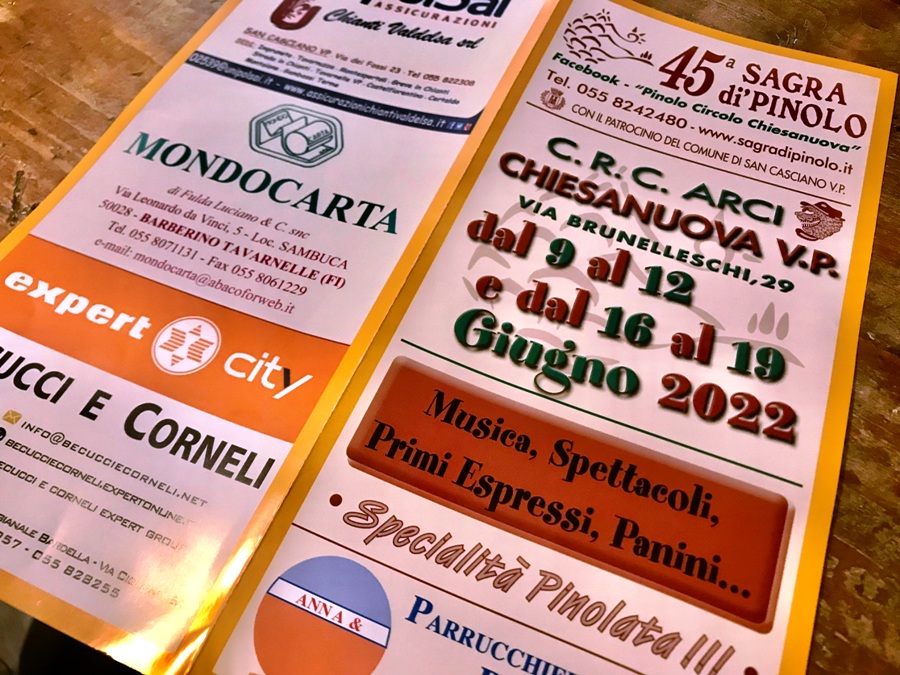 Dettagli dell'evento

Another great return in this 2022 of "rebirth". From 9 to 12 June and from 16 to 19 June.

In Chiesanuova (San Casciano), with the organization of the CRC Arci Chiesanuova, with the patronage of the Municipality of San Casciano, it is time for the Sagra di 'Pinolo (45th edition).

Every evening music, shows, first courses, grilled meats, sandwiches, beer-bar, wheel game, market.

And, of course, the pinolata, the great specialty.
COMPLETE PROGRAM
Thursday 9 June
9.30 pm ESCOalBAR "PORRO 2.0" rock band
Friday 10th June
8pm Rotisserie dinner with reservations required (3331081170)
9.30 pm ESCOalBAR "BERLLINY MEDINA", DJ set
Saturday 11 June
5pm Stands opening
6.30 pm Flag-wavers of the City of Florence (live show)
9.30 pm ESCOalBAR, "4 Quarti" rock band
Sunday 12 June
9.30 am Holy Mass inside the park
10 am Market with stands of local crafts, from yesterday and today
4.30 pm Inauguration of the exhibition "The wheels of life"
18.00 Pro Unicef ​​concert with the "Chianti Mood Big Band"
6.30 pm Sancaballet dance performance
9.30 pm ESCOalBAR "QUARTO PODERE" agricultural rock-folk
Thursday 16th June
9.30 pm ESCOalBAR "NEW TRANSPARENCIES" pop band
Friday 17 June
7pm "Trail di 'Pinolo", non-competitive foot race (info 3386636924)
8pm Rotisserie dinner with reservations required (3331081170)
9.30 pm ESCOalBAR Garden "24H BARCELONA" cover band
Saturday 18th June
5 pm Stand opening
6 pm Bruno Santini present the book "Profumo di boom"
9.30 pm ESCOalBAR "PERFIDIA TRIO" Cuban music
Sunday 19 June
10 am Market with stands of local crafts, from yesterday and today
10 am Meeting of 'Pinolo, static exhibition of vintage cars
5pm Most significant car award ceremony
7 pm Essay by the students of Spazio Geko
9.30 pm ESCOalBAR Dj set dance, 90s-2000s
11.15 pm Fireworks display
INFO
Web: www.sagradipinolo.it
Phone: 0558242480
Scopri di più
Orario

giugno 16 (Giovedì) - 19 (Domenica)
Location

Chiesanuova (San Casciano)