10giuTutto il giorno07lugR...Estate in San Polo: summer eventsSan Polo (Greve in Chianti)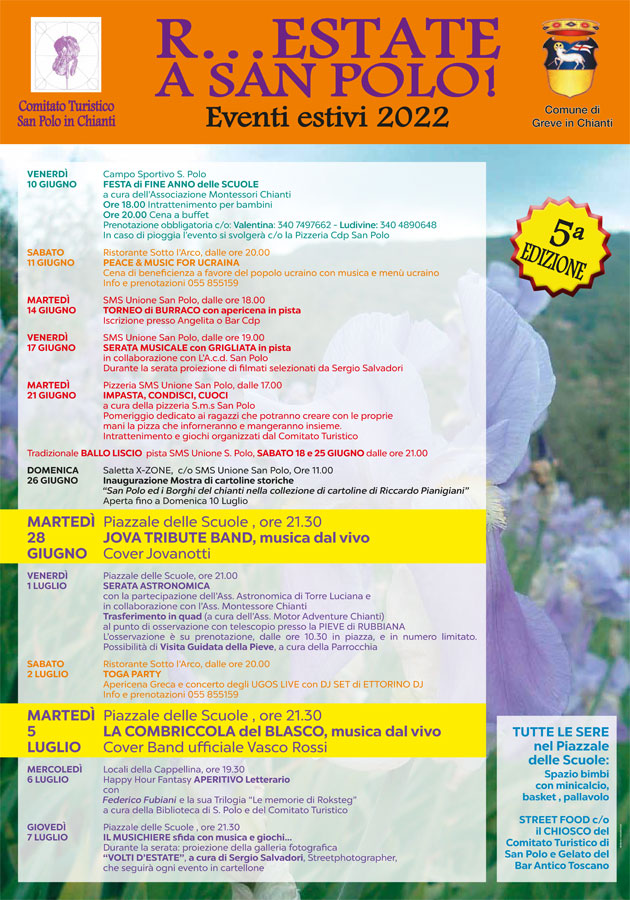 Dettagli dell'evento

Articolo disponibile anche in: Italian

Articolo disponibile anche in:
Italian

The large program of events organized by the San Polo Tourist Committee (with the support of the municipal administration) is called R … Estate in San Polo.

From 10 June to 7 July, every evening in the school square in San Polo in Chianti (Greve in Chianti): Children's area with mini football, basketball, volleyball. Street food at the kiosk of the San Polo Tourist Committee; ice cream from the Antico Toscano Bar.

This, however, is the program of events.

FRIDAY 10 JUNE – S. Polo Sports Field

END OF YEAR SCHOOL PARTY organized by the Montessori Chianti Association
6pm Entertainment for children
8pm Buffet dinner
Reservations required: Valentina 3407497662 – Ludivine 3404890648
(In case of rain, the event will take place at the cicrcolo pizzeria in San Polo)
SATURDAY 11 JUNE Restaurant Sotto l'Arco
PEACE & MUSIC FOR UKRAINE
From 8 pm charity dinner in favor of the Ukrainian people with Ukrainian music and menus.
Info and reservations 055855159.
TUESDAY 14 JUNE SMS Unione San Polo
From 18 JUNE TOURNAMENT of BURRACO with aperitif on the track.
Registration at Angelita or Bar Cdp.
FRIDAY 17 JUNE SMS Unione San Polo
From 7 pm MUSICAL EVENING with GRILLED on the track, in collaboration with the A.C.d. San Polo.
During the evening screening of films selected by Sergio Salvadori.
TUESDAY 21 JUNE Pizzeria SMS Unione San Polo
From 5 pm DOUGH, DRESS, COOK, by the SMS San Polo pizzeria.
Afternoon dedicated to children who will be able to create the pizza they will bake and eat together with their own hands. Entertainment and games organized by the Tourist Committee
SATURDAY 18 and SATURDAY 25 JUNE
From 9pm traditional SMOOTH DANCE track SMS Unione S. Polo
SUNDAY 26 JUNE Room X-ZONE, SMS Unione San Polo
At 11 am, opening of the historical postcards exhibition "San Polo and the Chianti villages in the Riccardo Pianigiani postcards collection". Open until Sunday 10th July
TUESDAY 28 JUNE Piazzale delle Scuole
At 9.30 pm JOVA TRIBUTE BAND, live music with Jovanotti's Cover Band
FRIDAY 1 JULY Piazzale delle Scuole
From 9 pm ASTRONOMIC EVENING, with the participation of the Ass. Astronomica di Torre Luciana and in collaboration with the Ass. Montessori Chianti.
Transfer by quad (by the Motor Adventure Chianti Association) to the observation point with telescope at the PIEVE di RUBBIANA.
Observation is by reservation only, from 10.30 in the square, and in a limited number.
Possibility of Guided Visit of the Parish, organized by the Parish
SATURDAY 2 JULY Ristorante Sotto l'Arco
From 20 TOGA PARTY. Greek aperitif and concert by UGOS LIVE with DJ SET by ETTORINO DJ.
Info and reservations 055855159.
TUESDAY 5 JULY Piazzale delle Scuole
From 9.30 pm LA COMBRICCOLA del BLASCO, live music with Vasco Rossi's official Cover Band
WEDNESDAY 6 JULY Local of the Cappellina
At 7.30 pm Happy Hour Fantasy Literary APERITIF, with Federico Fubiani and his Trilogy "The memories of Roksteg", by the San Polo library and the Tourist Committee.
THURSDAY 7 JULY Piazzale delle Scuole
From 9.30 pm THE MUSICIAN challenges with music and games.
During the evening: screening of the "SUMMER FACES" photo gallery, curated by Sergio Salvadori, Streetphotographer, who will follow every event in the summer.
Scopri di più
Orario

Giugno 10 (Venerdì) - Luglio 7 (Giovedì)
Location

San Polo in Chianti, Greve in Chianti