17setTutto il giorno18The festival of Brother of Mercy of Castelnuovo BerardengaCastelnuovo Berardenga
Dettagli dell'evento

Articolo disponibile anche in: Italian

Articolo disponibile anche in:
Italian

The annual festival of the "Brothers of Mercy" of Castelnuovo Berardenga, in honor of the Patron Saint, San Pio of Pietrelcina, will take place on Saturday and Sunday, September 17 and 18.

Among the programmed events are the "Giubileo dei malati e dei sofferenti" (the Jubilee of the sick and the suffering) and the brilliant comedy, "Parigi val bene una vasca", presented by the theatre company from Siena, "la Martinella".

"In the Holy Year of Mercy, (since the sanctuary of Maria del Patrocinio is a church of the Jubilee), there had to be a chance for the sick in the area as well as for all who are suffering, to obtain plenary indugence without taking long trips," says the governor of Mercy, Valerio Scali, who has been a volunteer for many years and at the head of the Association for the past 6 years.

"It is a very difficult year," continues Scali, "which finds our usual business beneficiaries and private citizens as well, in increased financial difficulty, and contributions have been reduced. Therefore we are happy to welcome this charity event, where friends of "la Martinella" will present an enjoyable show and will help guarantee the continuity of such events, which this time of crisis requires".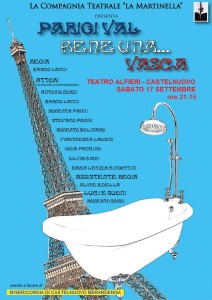 "I would like to remind everybody," concludes Scali, "that we will also raise funds for the people of central Italy affected by the earthquake."
"Set in the apartment of a well-to-do family," explains the director, Marco Landi, "Parigi val bene una vasca", is a comedy of errors, which put the imminent trip to the French capital as well as the family harmony of a married couple, in difficulty".
Entertainment is insured while contributing to a good cause. Saturday, September 17 at 9 PM For information and reservations, call Teatro Alfieri:  328-057-9769.
Scopri di più
Orario

settembre 17 (Sabato) - 18 (Domenica)
Location

Castelnuovo Berardenga