29magTutto il giornoArt and Wine Festival in Badia a PassignanoBADIA A PASSIGNANO (TAVARNELLE)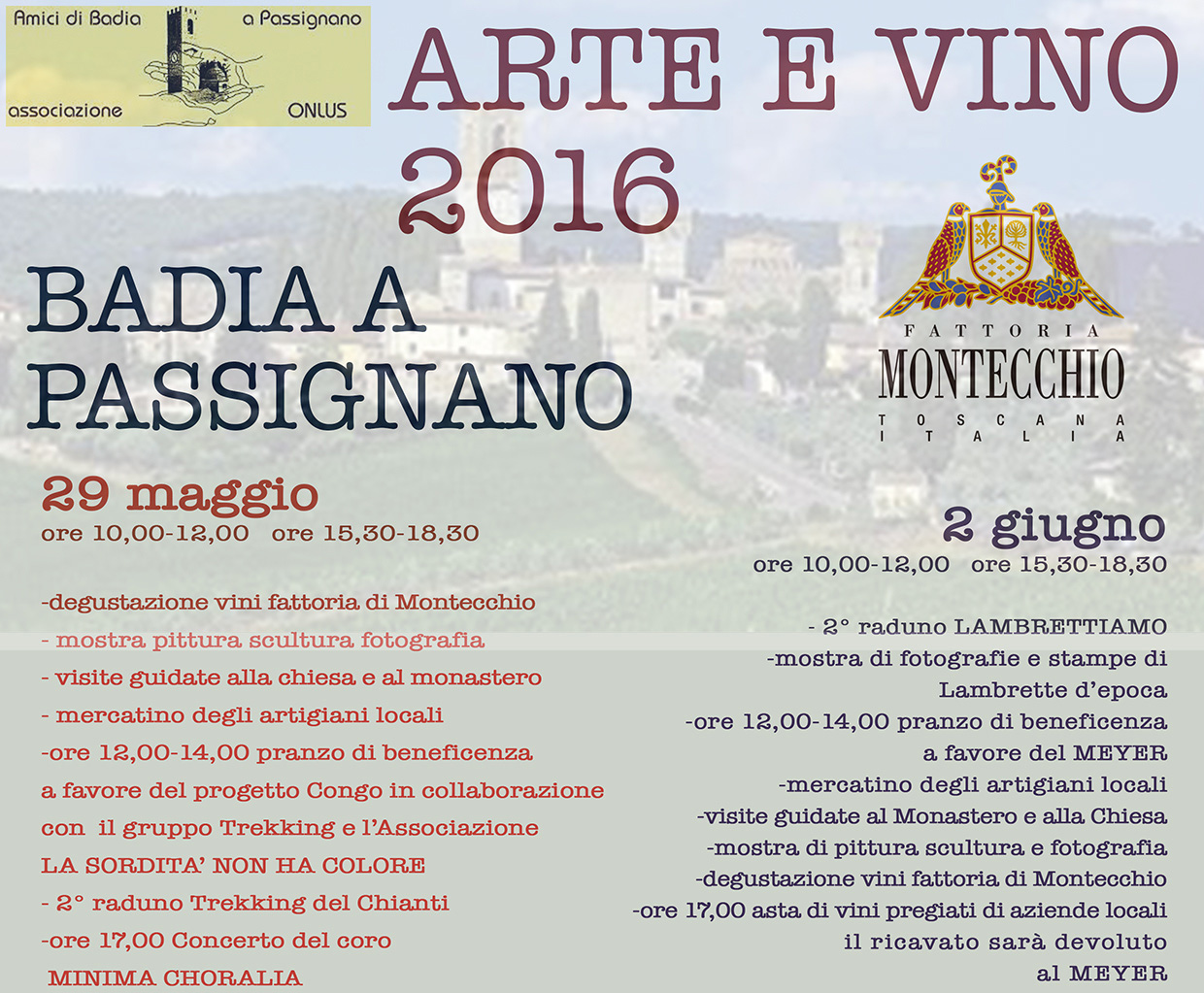 Dettagli dell'evento

Articolo disponibile anche in: Italian

Back to Badia a Passignano the Art and Wine festival. Appointment Sunday, May 29 and Thursday, June 2. Two days full of wine, art and solidarity. Also there will be the second edition of the gathering "Lambrettiamo" event for the famous scooter enthusiasts Innocenti. Proceeds from the event will be donated to the Paediatric Hospital Meyer.

Sunday, May 29
– 9.00 am departure trek, arriving at Badia a Passignano
– 10.00-12.00 / 15:30 to 18:30 Guided tours inside the monastery
– 10.30-12.30 / 15:30 to 19:00 tasting wines from the Fattoria Montecchio. Exhibition of paintings, sculpture, photography. artisans market under the walls, exhibition of photographs and prints with the theme vintage Lambrettas
– 11.00 S.S. Mass at the Church of San Michele
– 12.30 Buffet lunch in the Monastery in cooperation with the hiking group and the association "Deafness has no color" – minimum 15 euro offer. The proceeds will be donated to the solidarity project in Congo (support for flood victims).
– 17.00 Concert Choir Minimum Choralia Matteo Belli director.

Proceeds from the event will be donated to UNICEF Department Oncology Meyer Congo project.

During the exhibition will be able to visit the Upper Room where is represented the Last Supper by Ghirlandaio, the kitchen in 1600, the cloister and the garden.

Will exhibit the works of artists: Giuliano Ghelli, Francesco Nesi, Paolo Staccioli, Francesco Bruni, Francesco Vettori, Marina Des Tombe, Fabrizio Ferrari, Ass. Art and Art, Ass. Cultural Visual Arts, local artists.
Orario

Tutto il giorno (Domenica)
Location

Badia a Passignano