06agoTutto il giorno07Coccoli & Leone in the gardens of piazza della RepubblicaSan Casciano Val di Pesa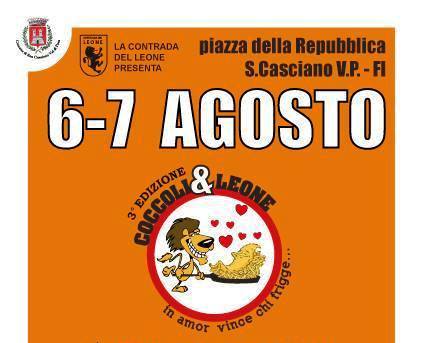 Dettagli dell'evento

Articolo disponibile anche in: Italian

On August 6 and 7, in piazza della Repubblica (the gardens of Piazzone) in San Casciano, roaring back two days of "contrada del Leone".

"Coccoli & Leone", in its third year, will delight with its starters, the great sea anche the farm mixed fried, grilled meat and other tasty treats.

Saturday 6 August  "hangover", with Dj Jack or Mino. From the opening 18 bar; from 19 opening of food stands; from 21.30 dj Jack or Mino.

Sunday, August 7 "Le Pive nel sacco Max Pezzali/883 Tribute ": from 12 opening of food stands takeout; from 17 operation bar; from 19 opening of food stands; from 21.30  "Le Pive nel Sacco-883 tribute band".

On both evenings there will be games for all ages. During the two-day fundraiser for the ABC Association Children Cri du chat.
Orario

agosto 6 (Sabato) - 7 (Domenica)
Location

San Casciano Val di Pesa