15mag09:0017:00"Cinquecenchianti": Fiat 500, good food and Chianti ClassicoMadonna di Brolio (Gaiole in Chianti)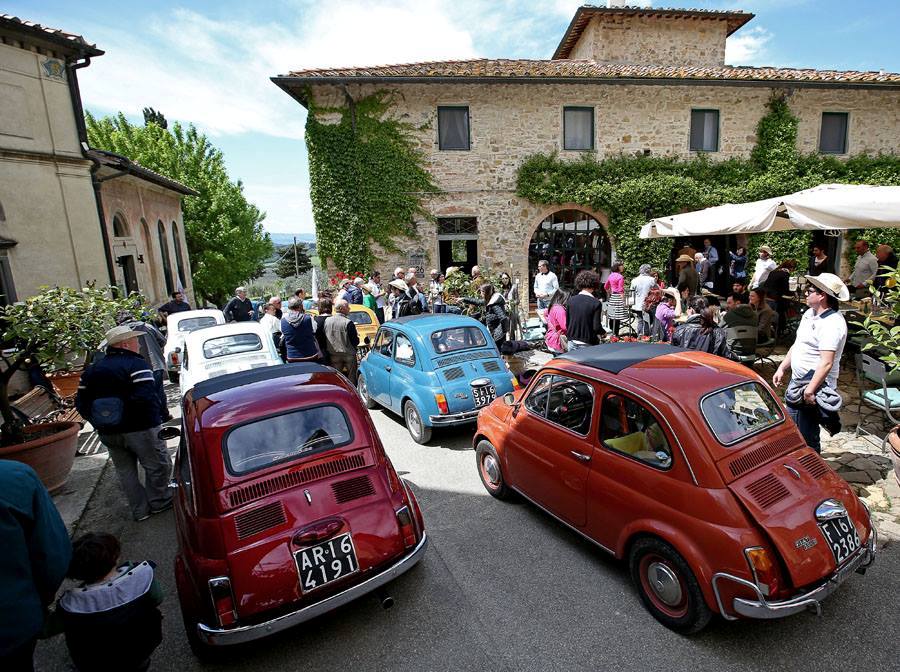 Dettagli dell'evento

Articolo disponibile anche in: Italian

Fifth "Cinquecenchianti", a gathering of Fiat 500 which will be held May 15 at the Cantine of Castello di Brolio (Madonna di Brolio), in the municipality of Gaiole in Chianti.

The event will begin at 9 with the welcome and the organization of the property: will be carried inscriptions with rich buffet for breakfast and a chance to taste wines; the cars will omaggiate of a memory branded White Roads; at 10.30 will start the visit of the cellars and then after everyone in the car for the ride, with a stop for a drink at the cellar of Villa a Sesta, the eponymous company, where you can make a short visit.

This year the participants will have an aperitif as the opportunity to taste the products directly from the manufacturer, and specifically Prosciutto Toscano DOP and IGP Finocchiona of Rapaccini Butcher, Parmigiano Reggiano DOCG of Social Dairy San Giorgio, the DOP Tuscan by Senese Bread Bakery, DOCG Chianti Classico from Villa a Sesta…

Lunch will be served at the Osteria del Castello, a few meters from the place of meeting, where it will repeat the famous and addictive quiz based 500 and Chianti Classico, with sensational prizes!

Like last year, it will be devoted special attention to the social, with a contest among the participants, which will reward the best photos uploaded to Instagram with the hashtag #cinquecenchianti fiat500 # 500clubitalia #igerssiena #chianticlassico #baronericasoli #happyinstant. Finally, the fifth edition of "Cinquecenchianti" will host a space of solidarity with a fundraiser in support of the Help for Maat Committee.

The round will have a length of about 20 km, but roads will be traversed without refueling facilities. Reservations for participation may be conducted at the number 3496921466, or directly on the appropriate section of the site www.cinquinosiena.com from May 2.
Orario

(Domenica) 09:00 - 17:00
Location

Madonna di Brolio (Gaiole in Chianti)