09ottTutto il giorno"Bandiere Arancioni", sunday, october 9 in BarberinoBarberino Val d'Elsa
Dettagli dell'evento

Articolo disponibile anche in: Italian

Articolo disponibile anche in:
Italian

A  laid back occasion to rediscover the small town beauties of Barberino Val d'Elsa, set between the ridges which separate Chianti and the Valley of Elsa.

Among the 100 Italian small towns certified to offer high quality sustainable management of the territory, this Tuscan village and its extended territory offer visits, walks, and unusual itineraries on Sunday, October 9, for National "Bandiere Arancioni" Day.

The township of Barberino Val D'Elsa, where the orange flag has been flying since 2004, and the Italian Touring Club invite residents and visitors to get to know and explore corners, views, and cultural and scenic resources of the Chianti outback through a specific network of guided visits in program for Sunday, October 9, starting at 9 AM.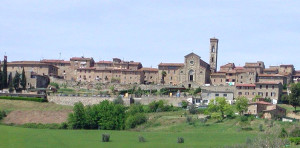 "We adhere to the 'Anno Nazionale dei Cammini' (National year of Paths), called for by the Minister of cultural goods and activities and of tourism", explains Cristina Pratesi, the Assessor for Tourism. "We are offering a double proposal that unites the thread of this 7th edition of the Day of the Bandiere Arancioni, otherwise called Orange paths, and activities with the naturalistic, historic, artistic/cultural, religious and food/wine themes of our territory".
On Sunday, the 9th, Barberino will offer the opportunity to follow two different itineraries after visiting the historic center, starting at 9 AM. (approximately 30 minutes).
The first is a trekking path which lasts around five hours in the Area of Agliena, the second,(using private means) will lead to the discovery of some of the most prestigious areas of Chianti, among which Sant'Appiano, Semifonte and Vico d'Elsa. Reservations are necessary and require a minimum of 15 participants.
Maximum reservation is for 35 participants. The meeting place is in front of the"Ufficio Informazioni Turistiche" (Tourist Info Office) of the Town…Piazzetta Pellegrini, 2 at 8:30 AM. The office is in the historic downtown near the Porta Fiorentina. The cost is €20 including lunch, the entire guided itinerary, and €15 for children under 14. Children from 5 to 10 are €10.
N.B. the "Bandiera Arancione" is a recognition of quality awarded by the Touring Club Italiano to small towns
Scopri di più
Orario

Tutto il giorno (Domenica)
Location

Barberino Val d'Elsa